Adventure in Homstay and Chom Bueng : A Tale of Angling Triumphs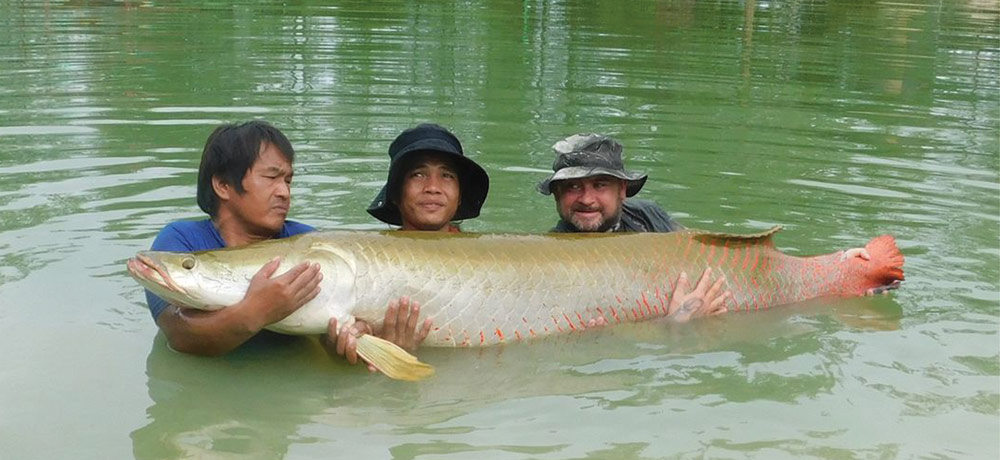 FISHING WITH SHAUN
Day 1 of our Homestay & Fishing expedition at Chom Bueng kicked off with an adreline pumping moment as the fishing line went taut and the struggle for control began. It was evident we had a massive catch on our hands—a formidable arapaima weighing an astounding 396 pounds. This incredible start was followed by two more arapaimas, weighing 308 and 265 pounds respectively.
Despite losing three other potential catches in between, the thrill of the day didn't end there. I also reeled in a remarkable 2.6-kilogram golden bellied barb, dwarfing the current IGFA world record of 1.85 kilograms. Unfortunately, for the record books, these need to be caught in the wild, so it remains an unofficial world record. The excitement continued as I landed an albino gar weighing around 25 pounds and engaged in an exhilarating battle with a hefty 39-pound Amazon redtail.
Day 2 presented a slower start to our fishing escapade. However, we were soon rewarded with the capture of a splendid 46-pound platinum gar. Following a brief lull in the action, we shifted our focus to the juvenile ponds at the back, where we successfully landed two 60-pound arapaima. Seeking more thrills, we returned to the main lake and were met with a frenzy of arapaima bites. Although some managed to evade our hooks, we persevered and triumphed, eventually reeling in a colossal 352-pound monster. Our success continued with catches of pacu weighing 18 and 20 pounds respectively. However, the pinnacle of excitement arrived when my camera assistant skillfully hooked a rare rita salaween chunk, boasting an impressive weight of around 39 pounds. Our Homestay & Fishing adventure at Chom Bueng was a tale of triumphs and exhilarating moments, making memories that will forever be etched in our angling chronicles.
Please remember you can see this action first hand on The Savage Fishing Youtube Channel AS WELL AS BEING A KEEN FISHERMAN SHAUN ALSO BRINGS US AUTHENTIC, FISH AND CHIPS WITH SHARPLES TRADITIONAL UK CHIP SHOPS.