James catches up with Bruce Grindlay of Rugby School Thailand
by James Kemp Head of School at The British Learning Centre – Bang Kapi
Time has flown by and it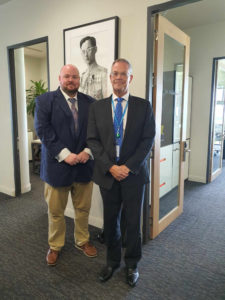 will be nearly one year since my first visit to Rugby School Thailand. The new school year began with news of remarkable academic successes: 87% of A Level students achieving high passes (A*- C), and an extraordinary 49% of students being awarded A*- A grades. I met with Mr Bruce Grindlay, the Principal, to discuss the school's ongoing progress and their ambitious plans for the future.
I don't get to visit RST as often as I would like, but when I do it is always something I look forward to. As an educator, I find it inspiring to spend time among professionals striving for excellence in surroundings that provide teachers the best of opportunities to achieve that aim. When I met with Mr Grindlay previously, I enjoyed learning about how the school's ethos, 'The Whole Person, The Whole Point', manifests itself in the daily life of the students, and I was keen to see how this had developed over the last year.
To describe the grounds of RST as extensive would be an understatement, and despite a long tour on my last visit there were still areas I was yet to see. This time, I was taken through the Secondary building into the Performing Arts Centre. While there, Mr Grindlay told me of the school's plans to broaden the A Level curriculum by offering Digital Media and Photography. RST are determined that all students, regardless of where their talents or passions lay, have pathways to success available to them where they can feel valued and challenged. While visiting the Performing Arts Centre, I was also shown the space where plans for a state of the art, 800 seater auditorium are taking shape. Mr Gindlay, himself an accomplished musician, spoke with vigour about how this new facility will enable the students to put on large scale productions and concerts, as well as provide a space for larger assemblies and events, such as graduation ceremonies. Clearly, Rugby School Thailand remains not only focused on academic rigour within the core subjects of English, maths and science, but also across the arts as well.
Sport has long been an area where RST seeks to excel. Recently, elite academies have been added to the roster of after school activities offered at the school. An already healthy fixture list of matches against Bangkok based schools has been added to with more competitive fixtures against local opposition. While the school has both the facilities and staff to support elite athletes, a wider range of fixtures will provide opportunities for athletes with a range of abilities to get involved and represent their school.
Over the coming year, students will be taking part in the school's first exchange programme with their counterparts from Rugby School in the UK. Having seen the impact of such programmes myself, I can say that this will be a life changing experience for the students and will also help to strengthen the bonds between both schools. I was interested to learn that Rugby School Thailand is the only British international school where graduates automatically become members of their UK parent school's alumni association: The Rugbeian Society. This will present Old Rugbians with an unparalleled opportunity to connect with other alumni from around the world.
The ethos of the school remains the same, from my first visit, but it has been fascinating for me to see the school evolve and grow while holding on to its founding principles. Over the last year, there has been a nearly 20% rise in the number of families choosing to take advantage of the school's enviable boarding facilities, be that part, weekly or full boarding. This can only be a sign that Rugby School Thailand are not only offering a great service for their students and their families, but also developing a community where people feel that they belong. RST remains at the upper end of the pricing scale for international schools, which is something potential parents will consider and which will serve and benchmark for their expectations should they choose to educate their children there. To my mind, this is something that Mr Grindlay and his team are acutely aware of and are continually striving to meet and exceed those expectations.
Rugby School Thailand will be holding Open Days for Years 9-12 on Saturday 4th November and for Years 6-8 on Saturday 25th November. Both days begin at 9am and finish at 12pm. I encourage you to take a look at what the school has to offer.
If you would like to read the previous article written by James about Bruce Grindlay of Rugby School Thailand you can view it on the Homepage of our website at pattayatrader.com Ed.