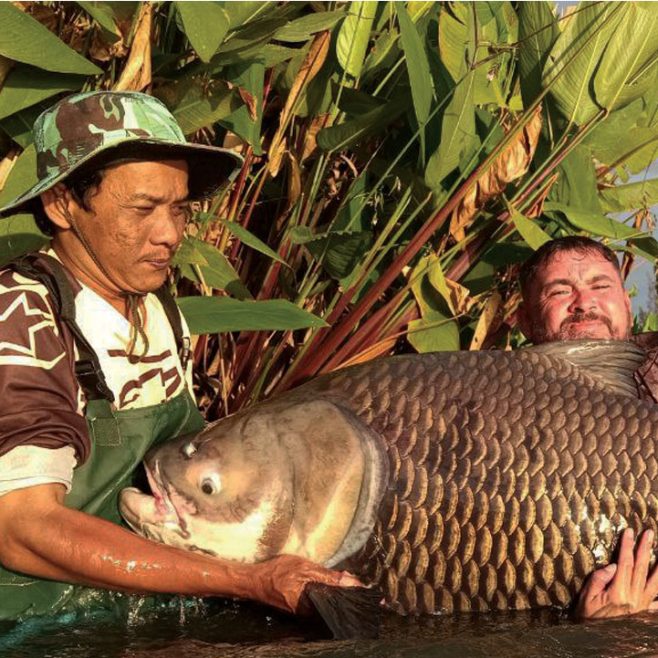 In the heart of Cha-am, amidst the lush landscape, lies the angler's paradise – Jurassic Mountain Resort and Fishing Park. This 2-day excursion promised unforgettable moments and colossal catches. Day one commenced with anticipation and a sense of excitement, ready to cast our lines into the waters teeming with mystery.
DAY ONE: JURASSIC MOUNTAIN RESORT As the sun broke through the morning mist, we set out for Jurassic Mountain Resort. The setting was serene, with towering peaks embracing the fishing grounds. The air buzzed with the promise of a remarkable day of fishing. The Giant Siamese Carp, an icon of these waters, beckoned.Our journey began with vigor as we cast our lines into the pristine lake. The Giant Siamese Carp welcomed us, testing our skills and determination. The first day's catch was nothing short of extraordinary – a Giant Siamese Carp weighing 55lb, followed by a 65lb beauty, and an astonishing 85lb heavyweight. The day unfolded with continuous action, rewarding our efforts with a 50lb and an Asian Redtail weighing 25lb.But the apex of the day was a fierce battle with an 80lb Giant Siamese Carp and another impressive 55lb specimen. The crescendo came as the day waned, and the sun painted the sky in hues of orange and pink. In a triumphant moment, with the last of my bait in the water, I reeled in the catch of a lifetime – a colossal Giant Siamese Carp, boasting a staggering 110lb, shattering my previous record set 18 months ago at this very lake.
DAY TWO: JURASSIC SALTWATER Embracing a new day, we ventured to the brand new saltwater lake, eager to explore the depths and diversity it held. The morning was adorned with lure fishing, capturing a variety of barramundi and the exquisite camouflaged Hybrid groupers. The lake whispered tales of adventure, as we immersed ourselves in the thrill of the chase. The climax of the day arrived with a slam dunk – a massive 55lb Goliath grouper, demonstrating the immense potential of the saltwater lake. This beautiful and pristine lake held promise for future angling expeditions, captivating our hearts and igniting the desire for more adventures on these waters.Both lakes, Jurassic Mountain Resort and the brand new saltwater lake, offered an exceptional angling experience. The presence of skilled assistance and the availability of refreshments enhanced the overall journey. Jurassic Mountain Resort and Jurassic Saltwater proved to be the perfect backdrop for reeling in giants and creating lasting memories in the realm of angling.
Please remember you can see this action first hand on The Savage Fishing Youtube Channel at https://www.youtube.com/@savagefishingchannel Savage Fishing Channel – YouTube
AS WELL AS BEING A KEEN FISHERMAN SHAUN ALSO BRINGS US AUTHENTIC, FISH AND CHIPS WITH SHARPLES TRADITIONAL UK CHIP SHOPS. CHECK OUT THEIR FACEBOOK PAGE