By Mandy Supa-arpha Itthikaiwan
The French Riviera, with its sun-kissed beaches, azure Mediterranean waters, and glamorous cities, has always been a magnet for travelers seeking relaxation and sophistication. Join me now on a captivating journey as I offer a glimpse into the heart of the Côte d'Azur and my discovery of the delight of traveling by train from Nice to Marseille,
Nice
My adventure began in the picturesque city of Nice which effortlessly combines the charm of old-world France with a vibrant ambiance. Strolling along the Promenade des Anglais, I enjoyed breathtaking views of the Mediterranean and the iconic blue chairs lining the shore. Nice is also home to a charming Old Town, known as Vieux Nice, where narrow cobblestone streets lead to lively markets and quaint cafes.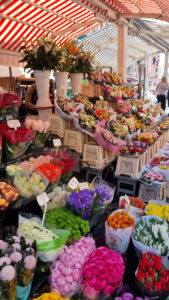 For first-time visitors, I recommend exploring on foot and stopping at attractions like Nice Cathedral, the Fine Arts Museum, Marc Chagall Museum, and the Old Port of Nice or Port Lympia. Also the highlight of my stay in Nice was spending a slow morning in the flower market (Le Marche aux fleurs) and food market in the old town. Here, you can savor local food, seasonal produce like olive oil, Provencal herbs, and specialties.
Stay: I chose the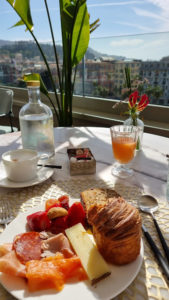 Anantara Plaza Nice, a hotel located in a historic building with a Belle Epoque façade inaugurated in 1848. It has recently been completely renovated and is conveniently situated in the city center on Av. De Verdun. Surrounded by luxury fashion brands like Hermes, Cartier, Louis Vuitton, and Tiffany & Co. it's also close to the main square, Place Masséna, Ave. Jean Medecin, the beach Promenade des Anglaise, and old town.
Dining: Chez Acchiardo, 38 Rue Droite, 06300 Nice. Nicoise cuisine with grilled meat and good wine list in a stonewalled dining room. Advance reservations are highly recommended. Seen Rooftop Bar, Anantara Plaza Nice. Great selection of cocktails and bar bites with a panoramic view of Nice.
The Train Journey from Nice to Marseille
I bid farewell to Nice to catch a train to Marseille. The train journey is not just a means of transportation but a mesmerizing experience in itself. I was treated to picturesque views of the Mediterranean coastline as the train took me through charming coastal villages, vineyards, and olive groves, offering a genuine taste of Provençal countryside. A delightful way to appreciate the natural beauty of the Côte d'Azur, it is often considered one of the most scenic train routes in France. It takes around 2.5 hours and costs about EUR 41 (https://www.sncf-connect.com).
Marseille
Marseille is a dynamic port city that blends history, culture, and a vibrant culinary scene. The Old Port (Vieux-Port) is the heart of Marseille, lined with colorful fishing boats and surrounded by lively cafes and markets. I took leisurely strolls along the quayside, sampled fresh seafood, and simply soaked in the bustling atmosphere.
Marseille is also home to some remarkable historical sites, including the Basilique Notre-Dame de la Garde, a basilica perched atop a hill that offers panoramic views of the city. The Old Town (Le Panier) is a maze of narrow streets adorned with street art, making it an excellent place for exploring and getting lost.
CHATEAU D'IF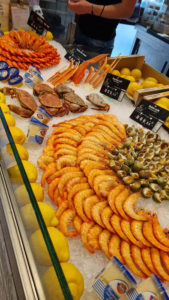 A highlight and probably what I was looking forward to the most during my Marseille getaway was visiting Chateau D'If. A short ferry ride from the bustling shores of Marseille lies the mystical Chateau D'If, an historic fortress perched atop a rugged island in the Mediterranean. This iconic monument, known worldwide as the setting for Alexandre Dumas' "The Count of Monte Cristo," offers a captivating glimpse into history and fiction. I first heard of Alexandre Dumas from "The Shawshank Redemption," a 1994 film starring Tim Robbins and Morgan Freeman, and later saw a film adaptation of "The Count of Monte Cristo."
As I explored its ancient stone walls, eerie dungeons, and panoramic vistas of the azure sea, I was transported to a world of intrigue, adventure, and the timeless allure of the Cote D'Azur. Chateau D'If is a must-visit gem for history buffs and literature enthusiasts like me, adding a touch of mystery and romance to any journey along the French Riviera.
Stay: I stayed in an apartment located in the city walking distance to Le Panier, the old port, and the subway. You can check www.airbnb.com or www.booking.com for plenty of apartments.Or if you prefer a hotel, NH Collection Marseille is a convenient choice
Dining: Eggplant, 2 Quai du Port, 13002 Marseille. A vegan eatery with outdoor and indoor seating right at the old port. I had lunch here before taking a ferry to Chateau d'If, and it was surprisingly great! Les Grandes Halles du Vieux-Port, 30 Cr Honoré d'Estienne d'Orves, 13001 Marseille. Good for casual dining as it is a food hall with different options, including fresh seafood, grilled meat, Asian corners, and beverages. Entre Terre & Mer, 13 Rue du Panier, 13002 Marseille. A casual restaurant for dinner in Le Panier. I had a fresh seafood platter and it was satisfying!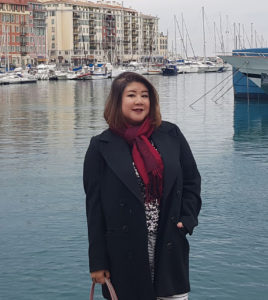 In Conclusion
The French Riviera and the scenic train ride from Nice to Marseille offer an enchanting blend of natural beauty, culture, and sophistication. So, pack your bags, hop on that train, and let the beauty of this region steal your heart.