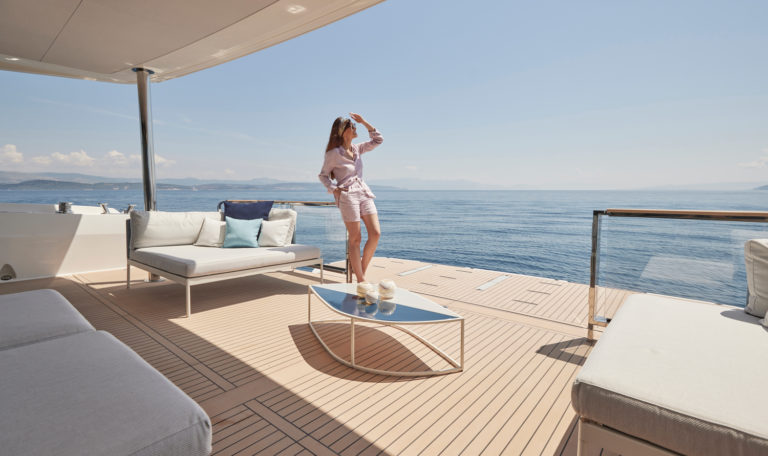 The M8 is the new flagship of Prestige's M-Line of multihull motor yachts and takes luxury real estate on the water to a new level. Designed by longtime Prestige collaborator Camillo Garroni it also features naval architecture by Marc Lombard.
If luxury real estate could float, it would look and feel like the Prestige M8. Big-city life lived large is the first thing you think when boarding, such is the space and the glam that surrounds you. Or imagine a gleaming penthouse crossed with an ultra-exclusive beach club. Only aboard a multihull motor yacht like the M8 can you mix polished chrome and wide-open views with an easy-going pieds dans l'eau lifestyle. This floating home away from home might leave you thinking that you never want to go back to your house again.
Boarding the M8 you feel suspended somewhere between the air and the sea in a space where an abundance of glass and reflective surfaces can almost leave you wondering where you've landed. The Opacmare transformer central platform can be raised to extend the floor space in the aft cockpit and create a suspended balcony over the sea. Lower it at the push of a button and it becomes the central section of a beach platform. Everything is slender, glittering and visually barely there, yet you sense solidity and security underfoot. It's an ideal combination when at sea and there's no shortage of space for conviviality and relaxation.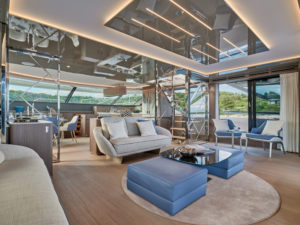 Accessed by stairs on the port side of the cockpit or a gorgeous see-through staircase on the starboard side of the saloon, the large flybridge has a wet bar and outdoor kitchen.The foredeck's social areas start with a very wide sun pad under the saloon windscreen and a truly fabulous aft-facing, C-shaped couch sunk into the bow, with a smaller sofa opposite. Sitting there, cruising along with only air between you and the sea, is wonderfully relaxing and truly satisfying in a way that only feeling like the master of your little universe can be. The stunning foredeck has a wide sunbathing area and an innovative sunken bow area, with seating on all four sides
The saloon is truly vast, with expansive glazing. Decorated by Valentina Militerno de Romedis with loose furnishings by Pininfarina, the interiors are bright, serene and functional, with sliding side doors.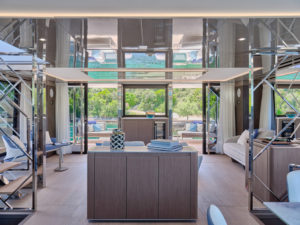 A central staircase leads from the saloon down to the full-beam owner's cabin, a 35 sqm suite that comes complete with a double bed, en-suite bathroom and walk-in wardrobe.
Owners can choose between a variety of layouts and guest sleeping arrangements, such as with or without a galley, a TV room, an extra crew cabin or a VIP suite instead of two guest cabins to port. Regardless of the chosen configuration, the spacious full-beam owner's suite forward is a constant as are two crew cabins fully fore, accessed via hatches in the bow.
While the Prestige team chose space and volume over speed when designing the M8, the boat's performance in terms of efficiency and ease of use is very respectable. Equipped with twin Volvo Penta D8- 600 IPS engines, the boat has a top speed of close to 20 knots, a range of about 350 nm at a cruising speed of 15 knots and turns on a dime. Furthermore, the M8 is also available in a 'silent' version, with solar panels and lithium battery bank. If you find yourself looking fondly at the M8 over your shoulder once you step back on land, you'll see the Garroni-designed exterior and recalling your time aboard, you may well find yourself standing on the ground but walking on air. www.prestige-yachts.com www.asiayachting.net By CLARE MAHON PHOTOS PRESTIGE This edited article is published by kind permission of