Sunday Carvery at the Sportsman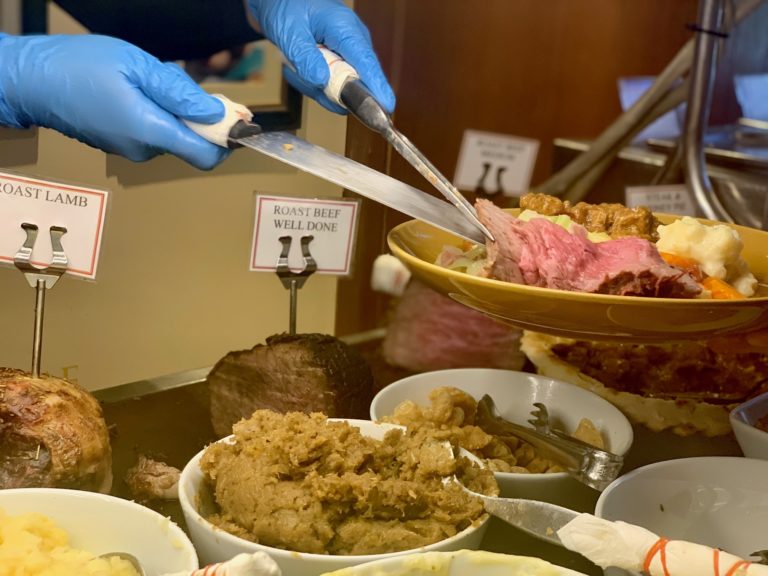 What is it about Sunday that makes you want to celebrate with a great meal? Nostalgia for our mum's Sunday roast? A need to mark the end of the weekend and prepare for the week ahead? A good old feed up before the diet starts Monday ?- as all diets do. Whatever the reason, having a great meal on a Sunday is a lovely treat and one to be enjoyed earlier than the usual dinner time in order to give you time to relax and digest before going to sleep.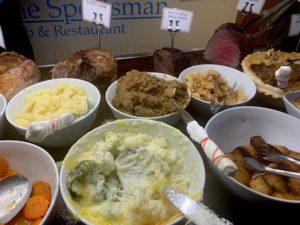 Many restaurants rely on plated offers for Sunday lunch as it may be easier to control the costs. However, The Sportsman has been providing the best carvery in town for so many Sundays that it really has got the whole thing down to perfection. Let me tell you why:
First of all it's the choice of 5 meats and for me personally the fact that includes a choice of beef either well done or pink in the middle – this is a big tick on my list of priorities. Then it's the accompanying extras: the stuffing, roast and mash potatoes, yorkshire puddings and pigs in blanket that charmingly named accompaniment of sausage wrapped in bacon. Also 3 choices of gravy as well as pepper and mushroom sauce
How often do we eat vegetables? Be honest and remember the suggested intake is 5 servings per day. Well at the Sportsman there are at least that many to choose from. On the Sunday Discover Pattaya visited the buffet there were in fact: carrots, brussels sprouts, leeks with bacon bits, green beans, beetroot and of course my personal favourite, not always found around town – Cauliflower Cheese. Also it's not mushy and slushy veg like the famously overcooked offerings in school canteens but fresh, tender and firm.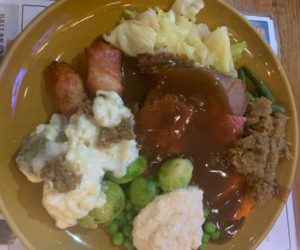 The price is 495 baht which includes a choice of 2 soups and rolls before the main event and if you have room after a dessert. The carvery starts from 12:30 pm with fresh dishes constantly brought out from the kitchen to take you right up to 8:30 pm. A member of staff is there to carve for you – and don't forget the beauty of a buffet is that you can select more than just 1 meat choice. My choice was the delicious beef and a very tasty honey roast ham.
Another highlight is the additional offer of Steak and Kidney pie worth trying just for the amazing pastry. Also of course the beauty of a carvery is the refill and "All you can eat" option. So my advice would be to come hungry but not over do it and have eyes bigger than your belly – if ever such a thing were possible. Take a selection on the first try and then maybe a second go of your favourites.
The seating is comfortable, the atmosphere convivial but be aware that this is a popular Sunday hang out. You may well find people you know with the same idea eating here on a Sunday so don't leave it too late. Indulge in a delicious Sunday afternoon tradition and then spoil yourself to a good film back at home while you think back to the pleasure of the meal you have just enjoyed.