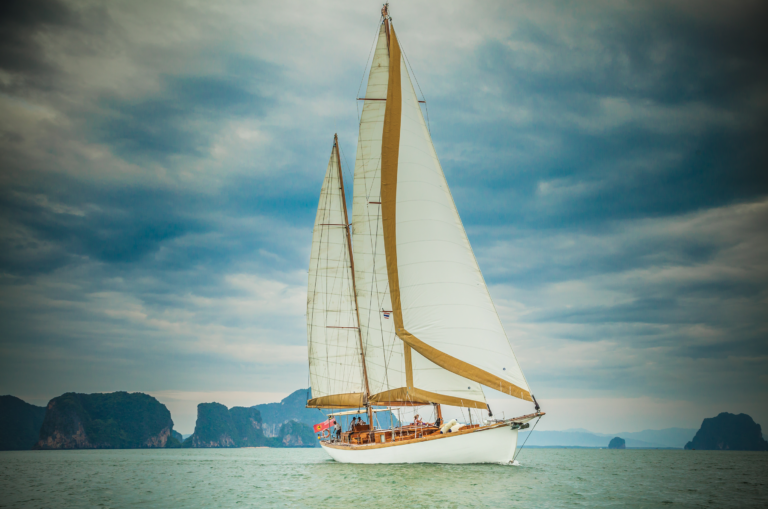 Phuket is currently home to a growing collection of 'classic' yachts, some for charter, some for sale, but all with a vintage sense of style and a rich heritage.
Asia Global Yachting is shaking up the luxury charter scene by launching a 'Classic Line' of boats dating back to the 1950s. The initial four-strong range includes stylish motor and sailing yachts ranging from 50ft to over 100ft and offering two cabins up to six suites.
"We've created the Classic Line because we now have a line-up of vintage charter yachts including gentleman's cruisers, sailing yachts and wooden boats. These charters are focused on easy-going cruising and time to enjoy your surroundings – the journey is the adventure," says Nicolas Monges, founder and Managing Director of Asia Global Yachting (AGY) in Thailand. "Walking barefoot on a wooden deck connects us to nature but also gives us a feeling of adventure and having the same sensations as sailors since the beginning of time. These yachts keep traditions alive and offer an experience reminiscent of a more romantic era of travel, yet with all the luxuries, amenities and toys today's clients want."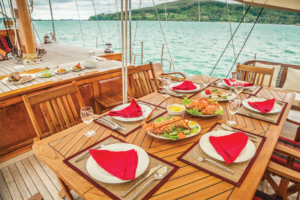 In terms of price, the new Classic Line is headed by Camara C, a 105ft all-steel motor yacht built in Scotland by Yarrow & Co and launched in 1961. After chartering for over three decades in the Mediterranean, the teak-decked superyacht completed an extensive refit in 2021 following her arrival in Phuket. Chartering from US$14,000 a day, Camara C accommodates up to 12 guests in six cabins
The main deck offers cosy alfresco dining and the interior starts with a long, gorgeously furnished saloon. The foredeck is a working area with space to store water toys, which include diving, fishing and snorkelling equipment, kayaks and a paddleboard. The flybridge is one of the most popular areas for guests, offering a large deck-level sunbathing and lounging area.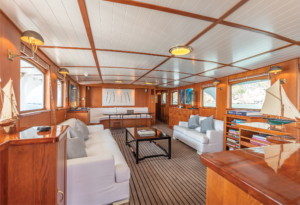 Northrop & Johnson's brokerage listings also include DoubleYou, the only Expedition 90 built by Cheoy Lee and now based in Phuket with an asking price of US$2,700,000. Designed by Tom Fexas and launched in 1999, the 158GT motor yacht was named Continental Drifter II when owned by American singer-songwriter Jimmy Buffett. "Northrop & Johnson lists superyachts of all ages, but buyers of pre-loved 'classic' yachts are attracted by their timeless style and enduring craftsmanship," says Martin Holmes, General Manager of Northrop & Johnson Asia-Pacific and Lee Marine, which holds the regional licence for the international brokerage. "Yachts like Firebird, Thea and DoubleYou are good value,as they've benefited from extensive and often expensive refits and upgrading. Steeped in adventure and global exploration, each yacht has a unique story and invites a new owner to pen their own unforgettable chapter." www.asiaglobalyachting.com www.northropandjohnson.com Words by Claire Lim Photos Asia Global Yachting, Northrop & Johnson This edited article is published by kind permission of:- Yacht Style Magazine