Journey to Spain Wine Dinner at Renaissance Pattaya Resort & Spa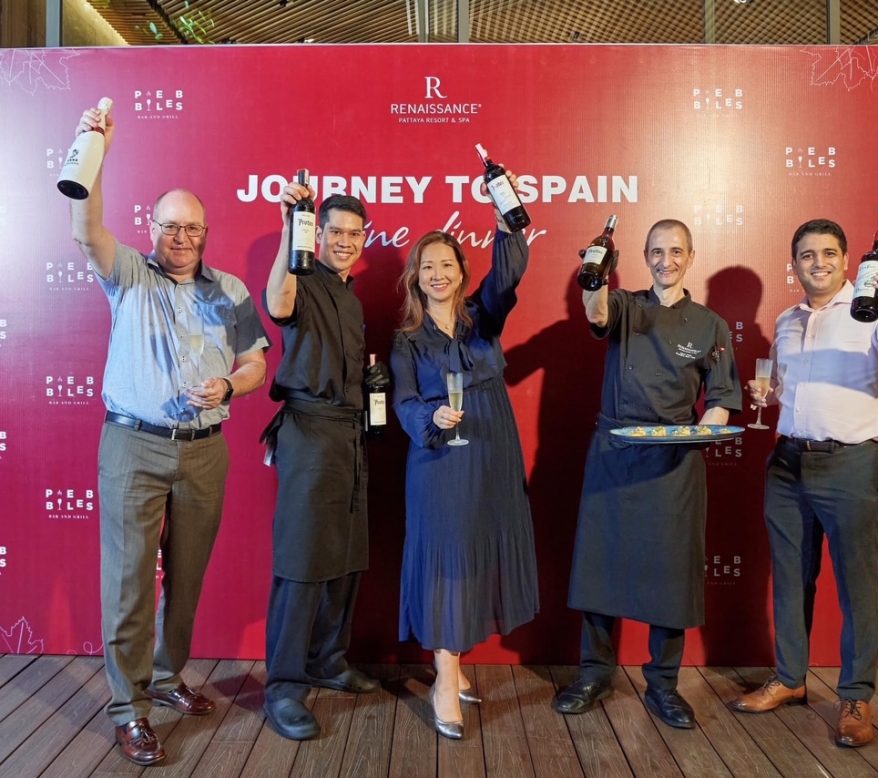 WITH A STAYCATION AT RENAISSANCE PATTAYA RESORT & SPA
Discover Pattaya went to the latest wine dinner hosted by Renaissance Pattaya Resort & Spa. This time we decided not just to attend the dinner, but stay overnight and get a real feel for this stunning, five-star resort. Arriving mid-afternoon we immediately headed down to the pool area where there were a variety of options. A swim-up bar pool, a well-equipped children's pool being enjoyed by a family with young children. and a beautiful adults' pool complete with cabanas and comfortable sunbeds.
Luckily we arrived during the 3-5 pm happy hour for cocktails at the pool bar – both the price and quality were exceptional. We did, however, finally drag ourselves away as it was time to change Heading to our rooms to prepare for the evening we were delighted with what we found.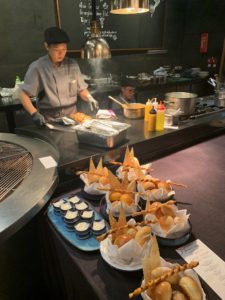 The rooms at Renaissance are tastefully designed with every convenience including spacious, beautiful bathrooms and the beds must get a special mention. These are the most comfortable we have ever found in our many years of living in Thailand. You can certainly be assured of a good night's sleep when you stay here!
Then it was time to venture down to the Pebbles Bar & Grill in time to catch an amazing sunset. This beautiful restaurant is situated overlooking the beach and is a perfectly romantic spot for any occasion. In fact, we noted that a wedding ceremony had just taken place earlier,to be followed by a reception in the resort's very grand ballroom. Enjoying the alfresco seating at Pebbles and the great sunset views over the sea we were welcomed with a glass of Sangria, in keeping with the Spanish Wine Dinner's theme. Then we moved to our table inside for the main event. where Carlos brand manager and representative of the vineyards selected for the evening's wine selection kept us entertained and informed as he visited table to table to discuss the pairings throughout the meal.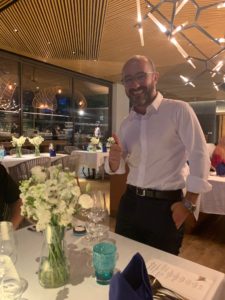 The food was excellent and included delicious tapas, avocado and lobster Gazpacho, White Asparagus, Black Cod with Spicy Chickpea Cream and the standout Lamb Casserole with Chorizo paired with the standout wine of the evening the Protos '27 Ribera del Duero. With the excellent chefs at Renaissance hailing from some premier fine dining Bangkok establishments, this came as no surprise. See them interviewed on our Pattaya Trader YouTube channel.
So, after a very good night's sleep, (those beds!) we went down for breakfast at the 609 Kitchen which was fantastic. Whether you are looking for Thai, European or any other type of food, the choice here is incredible, you will find everything here you need to start the day, including Dim Sum,Noodles,hearty traditional English breakfast fare, fresh fruits and salads, waffles, pancakes and much, much more. Oh, and the unlimited coffee is great too. Keep an eye out for the Renaissance Wine Dinners they are superb value and if you get the chance to stay overnight so as to avoid the drive home then it will turn a delightful evening into a marvelous getaway experience!
Renaissance Pattaya Resort and Spa Website