Phnom Penh, Cambodia, is a Hot, Fun Place!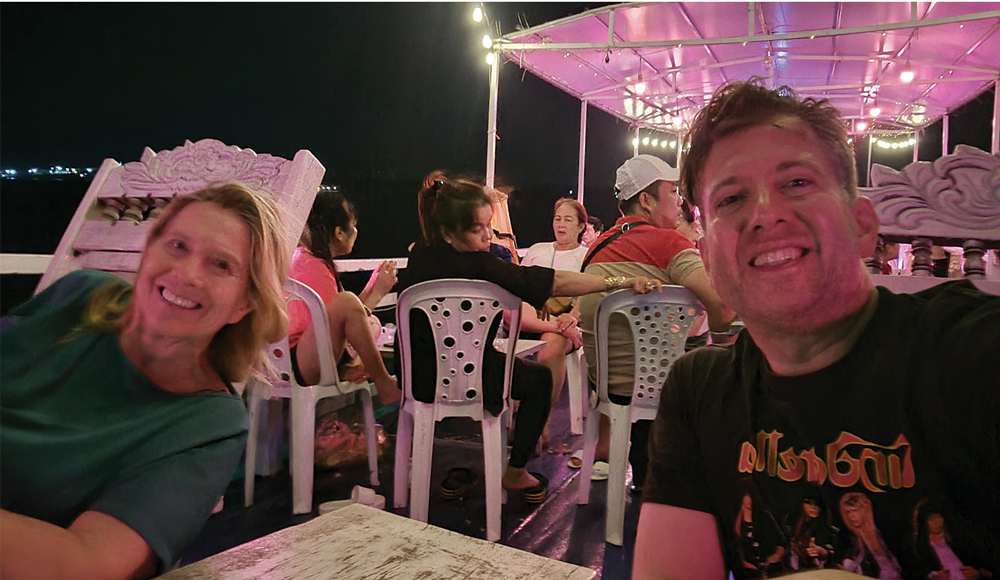 PART 2 – Story and pictures by Jason Rupp and Carla Marie Rupp (If you missed part 1 you can read it online at pattayatrader.com)
The Highlight of our Phnom Penh trip was a sunset boat ride. We really recommend taking a boat on the Mekong River and the price is so reasonable, especially if you don't book but just show up. There are many boats that leave at various times so we asked the price for one and then walked to the next one to compare. What a deal we got …it was so cheap, around $3 USD for each of us and the views atop the boat were spectacular.
While it's kind of a steep climb down to get into the boat and back up afterwards (you need to be careful) – it's all worth it. After the boat ride, we went to Grand River Sports Bar which faces the river and from where you can enjoy people-watching. Whilst sitting there and looking at all the tuk-tuks driving around we enjoyed a delicious green vegetable curry which reminded us of our favourite green curry back in Pattaya in the Jazz Pit at Sunsabella Classical Thai Restaurant. So good! Then it was time for dessert. Who doesn't like an amazing dessert? Our favorite place for a treat was Backyard Cafe, where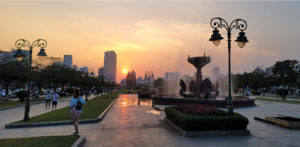 we went all out with scrumptious chocolate balls and chocolate pie, both desserts that we'll never forget. It felt so decadent and rich. It was definitely worth the stop at this outstanding restaurant only a short walk from there to the fascinating Russian Market.
This is the second biggest market area the biggest and more famous is Central Market) with stands of fresh and cooked foods. At the Russian market, we saw many people selling fruit and vegetables, all kinds of wares, and clothing of various brands, real and fake. A few other healthy restaurants we tried were the Maitreya Healthy Vegetarian Restaurant, with a great mushroom dish, Planta and Sacred Lotus Cafe, which had an all-day vegan breakfast available.
Whenever we could, we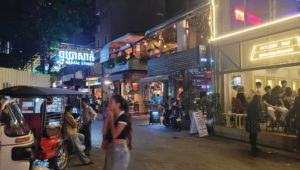 ordered fresh coconuts to drink from stands along the sidewalks. They're so hydrating and welcome in the Cambodian weather. Phnom Penh features a wealth of fresh and healthy drinks for the locals to enjoy throughout the day. Phnom Penh is also a great place for every range of lodging from hostels to top-of-the-line, even luxurious casino hotels, such as the beautiful Naga 2 Casino – which we enjoyed visiting. Jason decided $100 was all he would be willing to lose at the Blackjack table, but at $25/hand he lost that quick. But that is the risk one must accept. We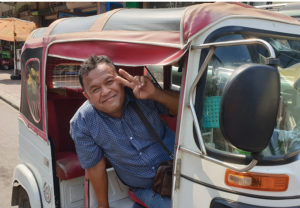 stayed at the mid-price Monsoon Bassac Hotel which is within walking distance of a lovely, large park with a fountain and monument. The park is empty all day and then fills up later with locals exercising and taking sunset walks. At the hotel pool, we had fun chatting with French travelers and met a Canadian farmer taking a visa run from Danang, Vietnam. The Canadian farmer, Sheldon, joined us for a meal at a nearby outdoor patio Greek restaurant, Elia Greek Kitchen. There is also an authentic local Cambodian coffee stand across the street from the hotel (as there are almost everywhere), which we enjoyed using each morning. A coffee is typically a dollar, whether hot or iced. The hotel is also a good location from which to walk to the lively Bassac Street nightlife area. Bassac Street is a relatively new entertainment area with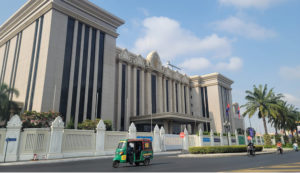 exciting discos, bars and cafes in the hidden streets behind the main road. Several times, we tried Mama Wong's restaurant there, across from a disco. We loved our late-night noodle soup with mushrooms and greens, the spinach dumplings and the lime crème brulee which we ate while watching the dancers at the disco.
After our week in PP, we took a van to visit the relaxing, small riverside city of Kampot where you can actually swim in the river at a handful of resorts, such as Meraki, Sabay Beach and Hidden Resort. We also liked the Simple Things Cafe and the Epic Arts Restaurant, where we joined friends at the end of a day adventuring on a rented motorcycle. We then took a $5 evening boat ride and bought all kinds of black and brown pepper, an important product produced in the area. Returning to PP for a night, we then took a farewell tuk-tuk back to the airport for our Viet Jet flight back to Bangkok and then by land to Pattaya.
Phnom Penh turned out to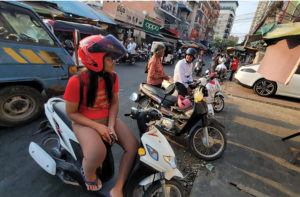 be a thrilling time away from Thailand. Anyone can find things to do in this up-and-coming Asian power-house city. Everybody coming from Thailand will be so relieved they can take the Grab tuk-tuks here! So don't forget to take tuk-tuks: they are a deal here and give you a perfect vantage point of the historic heritage sites as you pass by them. They are so convenient. Another tip is to walk around each area where you have a meal. Foods of all ethnic nationalities are available; we even found Mexican tacos street food style at Tacos Kopelli. Top attractions are the National Museum, Wat Phnom, the Independence Monument, the Royal Palace & Silver Pagoda, the Phnom Penh Night Market (best visited 5 to 9 pm), the Riverfront (open all day and night, every day), the Choeung Ek Killing Fields (a former orchard and mass grave of victims of the Khmer Rouge killed between 1975 and 1979, and Prison S21 (a former high school), where you can see photos that documented the brutal site to the world. Thousands were murdered at S21, and all were photographed and documented. We have seen most of these sites. If like us you have not been to Phnom Penh for 10 to 15 years you will find it a very different city. We will go there again since it felt like we needed more time here. It was such a fun visit.
Jason Rupp and Carla Marie Rupp are freelance travel writers and journalists, who spend a lot of time in Pattaya, Thailand. They both run the YouTube channels: Jason Rupp; Jason Rupp Learning to Walk and Talk, and Jason Rupp Extras