Phnom Penh, Cambodia, is a Hot, Fun Place!
PART 1 – Story and pictures by Jason Rupp and Carla Marie Rupp
You can easily make a holiday trip out of going to Phnom Penh. It's "hot" as in exciting! When we were there it was really hot though. We braved the heat by hydrating with sugar cane juice and fresh coconut water, from sellers dotted throughout the city. It's really a fun place to visit and just a short flight from Bangkok. During our week's stay, we never ran out of things to do in this magical Cambodian city along the Mekong River.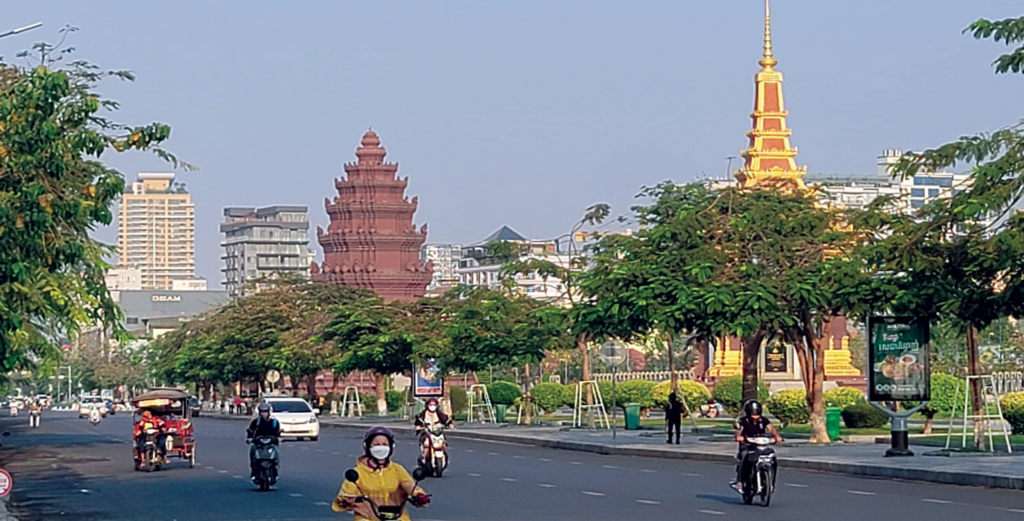 Phnom Penh isn't what it used to be, just a decade ago. No more dusty roads with a hint of danger; now it's a mix of old and new. You see tall buildings right beside the shorter, older ones. It feels safe, clean. Modern buildings, yet still plenty of street food, with parks and happier people than we remember from a visit some years ago. Walking around, we found lots of family food stalls with delicious food and beverages – as well as craft beer and cocktails in cozy cafes and bars. People are mingling and socializing everywhere. It felt good to see the world traveling again. Phnom Penh is a happening place, a paradise for food and drink choices. There are expats meeting at unique expat events and for those needing it, it is a perfect place for a visa run.
You can see heritage sites, such as the Royal Palace and the Silver Pagoda, take walks, enjoy comedy and other entertainment, or just have a beautiful ride on a sightseeing boat. It's a pleasure meeting people all over Phnom Penh, sometimes called "PP." We loved it all.
Arriving at the fully modernized Phnom Penh Airport (PNH) is convenient and easy from Bangkok, just over an hour's flight. Our adventure began with the tuk-tuk ride into the center of the city to our hotel. After settling in with our bags, we checked into our hotel, the Artist Residence, to explore and found much to see and do. We decided the rooms were so-so, but the coffee shop downstairs was worth being there. Taking tuk-tuks around in the lively streets is fun, and you can order them on Grab now, without any annoying haggling. You just order them and they come to you, with the price set. It's a wild and fun way to get around.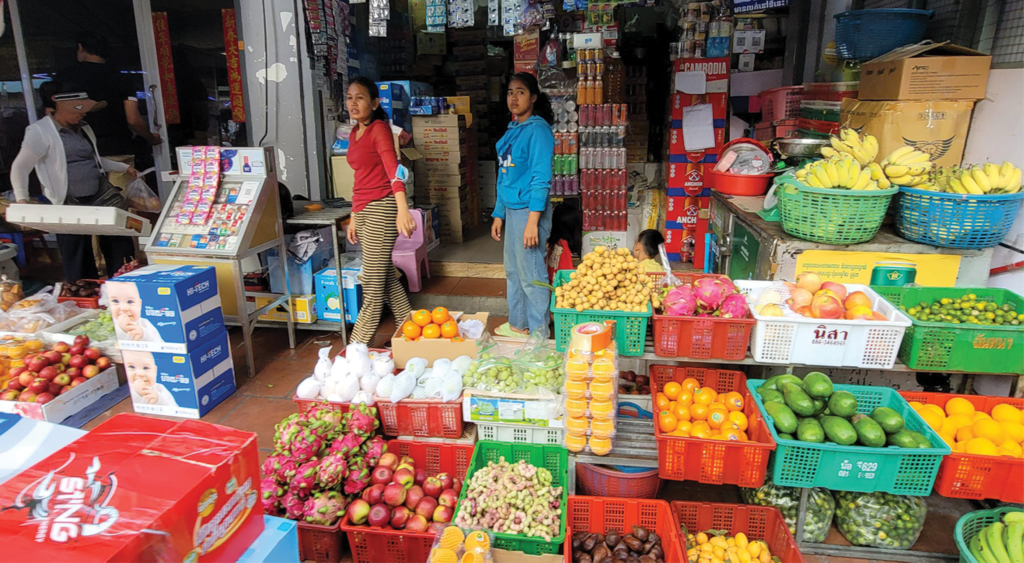 One of our first nights included lots of laughs in a comedy club called The Box Office Craft Beer Bar. We saw traveling expat comic Trevor Lock entertain in an interactive show, with the audience hailing from all over the world. The Box Office served up some great food, but we especially enjoyed the double IPA craft beer. Afterwards, just a short walk away, we found and tried bagels at Cambodia Bagels. We thought of our hometown in New York City as we ate them. They may as well just call them New York bagels, since they are the best we have had outside of N.Y.C. Wow, that was yummy.
Our favorite cup of coffee was at the little vintage lobby of The Artist Residence, where we ordered the delicious long black (or Americano). It's right near the impressive Hyatt Regency. And each time we sat here, we found expat travelers to have a chat with and get a few tips. One told us about some great Vietnamese coffee at the "Ha Noi Corner" where everything was authentic Vietnamese.
To eat we went to Soga Cafe, Bistro & School, open from 6 am to 10 pm where we ordered carrot ginger soup and a big, beautiful gourmet salad. In our salad were bok choy, pomegranate, corn, green and yellow zucchini, yellow squash, tomatoes, grilled red pepper, mango, and cooked pumpkin cubes. The Kobe dressing was a blend of cubed carrots, sliced ginger, soy sauce, sesame oil, garlic, white onion, black pepper and lime juice. The French chef and owner said he absolutely loves Phnom Penh, as we do now.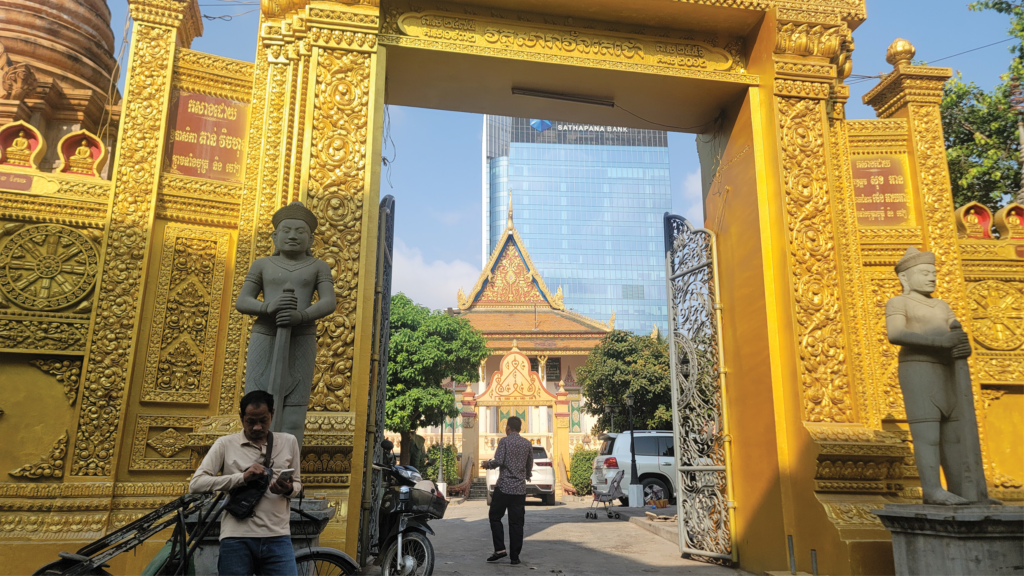 We felt so good eating healthy and fresh food here. It was one of the best salads we have had in a long time, with so many great ingredients. Chef Olivier Guerrapin chatted with us about his career, French fusion foods, and how he landed in the capital city and started this popular cooking school and restaurant. Another great place to eat is Padang Nusantara, an Indonesian restaurant by the river and full of Indonesian people. They told us that the food was as authentic as it can get. We had coconut rice, cassava green leaves, crispy tempe, and potato and vegetable fritters with red and green chile sauces.
We then went back in fact walking, and tuk-tuks became our routine for getting around Phnom Penh. Anybody can order a tuk-tuk and know what the price is by using the apps. We would choose far-off destinations, just so we could sightsee along the way. We also took tuk-tuks to many wonderful restaurants during the week, in between reasonably-priced treatments (hair washes, hair cuts, ear cleanings, shaves, massages, etc.) for the various Jason Rupp travel & pampering YouTube channels
Find out more about Phnom Penh including, what was for Jason and Carla the absolute highlight of their Cambodian trip. In the travel section of next month's edition of Discover Pattaya
Jason Rupp and Carla Marie Rupp are freelance travel writers and journalists, who spend a lot of time in Pattaya, Thailand. They both run the YouTube channels: Jason Rupp; Jason Rupp Learning to Walk and Talk, and Jason Rupp Extras