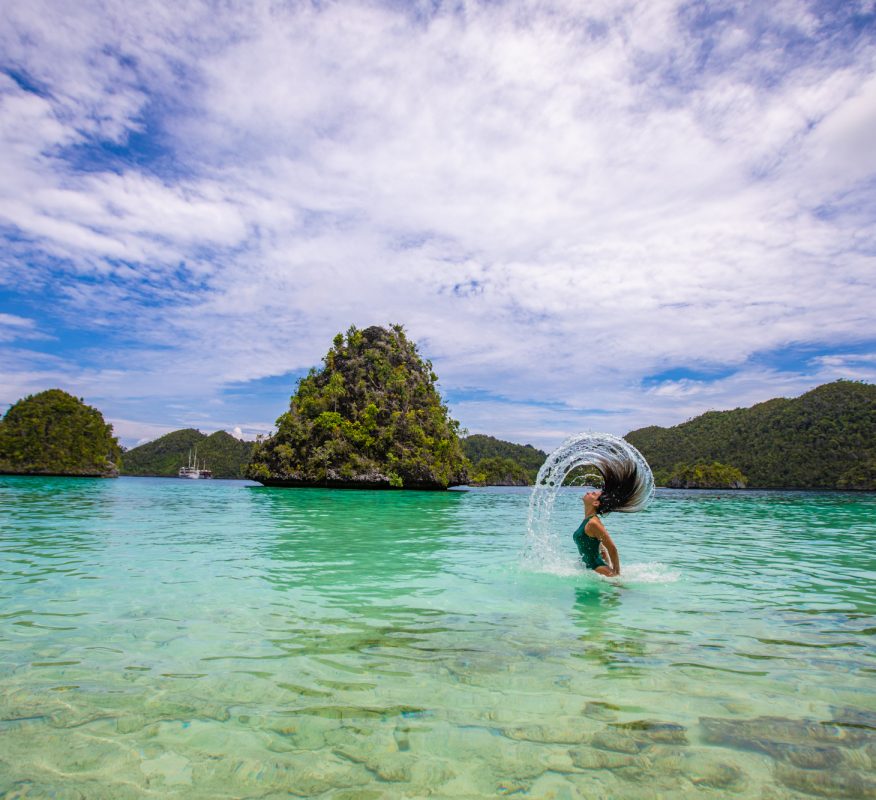 Following earlier festivals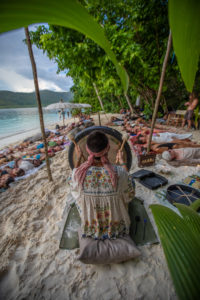 along the Amazon River and in the Sahara Desert, the latest edition of Immersion was held in Raja Ampat, which provided a spectacular backdrop for an alluring
cocktail of dancing and diving, meditation and music.
Isolated within the towering karsts of Raja Ampat, a commune of over 100 travellers have arrived by boat on Wayag Island. On this uninhabited and near-inaccessible atoll, the wayward wanderers are performing a cacao ceremony. Participants are gathered in a circle, praying, singing and meditating while sipping on the natural elixir sanctified by the ancient Aztecs and Mayans. This esoteric exercise, taking part in an unspoiled corner of the globe, is part of a New Age festival known as Immersion. It might seem like a scene straight out of Danny Boyle's film The Beach, but rather than gathering a group of backpackers in Thailand, Immersion has attracted these luxury charter guests to West Papua in east Indonesia.
Raja Ampat was the seventh Immersion gathering organised by Greg Habib, a French-Brazilian entrepreneur. Previous editions of the music and wellness event have taken place along the Amazon River, amid the dunes of the Sahara Desert and on the salt flats of Bolivia. Habib calls Immersion events an invitation to "immerse yourself in a cultural universe". A festival that seeks to showcase epic locations off the beaten path, Immersion chose Raja Ampat this year for its spectacular natural beauty. However, Immersion events are more than just gatherings in
beautiful locations. Immersion is a global community that aims to bring people together to experience new cultures, nature, music, gastronomy, self-knowledge and friendship, and to give back to the local community."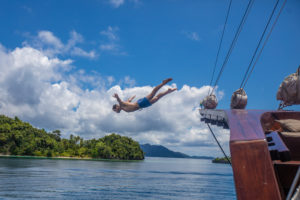 The six-day programme included a give-back initiative, encouraging participants to volunteer in a local village. The group then continued sailing around the archipelago and indulging in a
variety of activities to fully experience the stunning scenery. Diving, snorkelling and feasting were complemented by holistic experiences such as sound healing rituals, primal movement sessions and massage therapies. Each day was followed by a hedonistic evening of dancing under the stars, be it on a beach or a boat, or in the water.
The guests represented over 40 different nationalities, with their ages ranging from six months to 73 years. Attendees were joined by a production crew, professional musicians and spiritual leaders, although Habib emphasises that there's little distinction between guests and staff at Immersion events. "We needed a partner who could understand and accommodate our
complex needs, and Yacht Sourcing went above and beyond in helping us create an unforgettable experience for all participants," he says. "From negotiating and securing the perfect vessels, to assisting with logistics, menu planning and licensing requirements, Yacht
Sourcing's understanding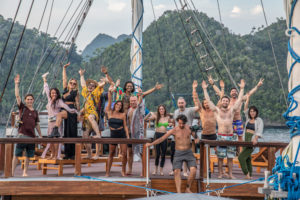 of the remote location of Raja Ampat was critical"
By the end of the event, Habib received feedback from guests "describing the experience as the most beautiful trip of their lives". The success of the festival, the support of the local Indonesian
community and the pristine beauty of the region have encouraged Habib to consider returning for another edition of the festival in the future. "While Immersion is committed to exploring new locations, Raja Ampat is likely to be revisited due to its exceptional appeal," says Habib. "It's a destination that many people dream of visiting."
This edited article is republished by kind permission