WORDS JOHN HIGGINSON PHOTOS ASIAMARINE & SHIPYARDS
As it celebrates its 10th anniversary, Asiamarine has added Swan and Silent-Yachts to a portfolio of brands including Galeon, Bali and Nimbus, while growing its regional network of Fraser superyacht brokers from Hong Kong to Singapore and Thailand. As excited as CEO Eric Noyel is about both new brands and moving into new sectors of the yachting market, he's clear that motor yacht powerhouse Galeon remains Asiamarine's flagship brand, as it has been since 2016."Galeon remains our anchor brand, followed by Bali and Nimbus, while Swan and Silent are complementary because they're focused on different but growing segments," says Noyel, who founded Asiamarine in March 2013.
Asiamarine sold and delivered its first Galeon in the Philippines last year, with the 460 Fly followed by a 325 GTO later in the year. Thailand also welcomed its first 500 Fly, Galeon's iconic 'transformer' model that made the brand a household name, while Singapore welcomed its first new 500 Fly in late 2021. To date, Asiamarine has sold over 60 Galeon yachts in the region. Whilst still a new name in Asia, there are now enough clients who have shown they're happy to buy a Galeon motor yacht.
Galeon has collaborated with UK-based Tony Castro Yacht Design for over two decades and is best known for its iconic 'beach mode' models popularised by the 500 Fly and its drop-down wings, waterside bar and transformable outdoor areas. It was followed by the 460 Fly,
640 Fly, 400 Fly, the 440 Fly last year and the 560 Fly that debuted at this year's Miami International Boat Show. However, Noyel is most excited about the brand's new flagship, the 800 Fly, which debuted at the Fort Lauderdale International Boat Show last October. The Frenchman has been aboard and believes the boat would make a strong impression in Asia."The boat is massive, and the quality of the interior styling has gone up a lot. It's a really nicely executed 83ft yacht and competitively priced. It's also a Category A boat, so you can take it offshore, which makes it stand out from most of the competition in that size range," says Noyel, who believes the model is priced at least 20 per cent below competitors."It's a great boat for Asia and a very good first 'regional' model for someone who wants a longer range and to explore other countries."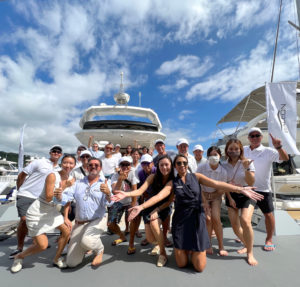 Asiamarine has also moved into the world of sailing monohulls with Swan, one of the industry's most iconic brands. Noyel, who grew up sailing in the south of France, is excited about the potential of the premium brand, "My hopes for Swan are huge. Firstly, because I think the sailing market is coming back to life very strongly. The ratio of sailing yachts versus motor yachts has increased for the first time in over a decade and that applies across all sizes including superyachts," he says. "Secondly, the Swan brand has an immense following among
experienced sailors in Asia who know it from its international reputation. Swan has been a bit quiet in Hong Kong and Southeast Asia, but I anticipate the brand will catch up in two to three years"
As if that wasn't enough, Asiamarine is also taking its first steps in representing Silent-Yachts in Hong Kong, Singapore and Thailand. The first few units of the Silent 60 were built in Thailand and have been delivered to Europe and the US, and although other builders have moved or are moving into the sector, Asia is still awaiting its first solar-electric catamaran. That is until 2024, when Noyel says the first Silent 62 3-Deck will be delivered to this region. "I think solar-electric powercats are going to be very much in demand so in anticipation of that, we wanted to work with Silent-Yachts,"
As well as being CEO of Asiamarine, Noyel is Managing Director of Fraser Asia, whose sales have been spearheaded by Adam Blackmore, Asiamarine's Commercial Director and a Sales Broker for Fraser since 2018. "It really helps to have a team of Sales Brokers for Fraser, while
all our other Asiamarine staff can help them when they have a lead or yacht to sell. A very positive development is the resumption of international charter "We did more charter bookings in January and February this year than we did across 2021 and 2022!"
Asiamarine has a lot to look forward to in its second decade No wonder the company's annual party looked so much fun.
This edited article is republished by kind permission of