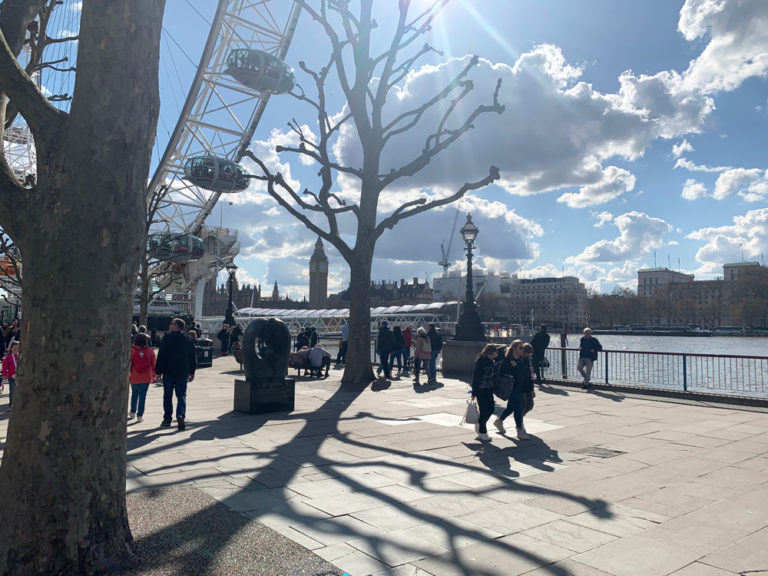 London's Southbank area is a vibrant part of the capital. There is always plenty going on here by the banks of the Thames. Starting at Westminster Bridge you'll see the iconic Big Ben and historic Houses of Parliament on the other side of the bridge. Then walk along past the wonderful Sea Life Centre London Aquarium to the London Eye where there's always a massive queue of expectant tourists ready to take a spin and get some wonderful views of the capital. Next to this is Jubilee Gardens, a public park created in 1977 to mark 25 years of Queen Elizabeth II's reign.
Carry on along the river path and you'll reach Southbank Centre, it is in fact Europe's largest centre for the arts and not difficult to miss being bright yellow. With the Royal Festival Halls, Hayward Gallery, Purcell Rooms and Queen Elizabeth Hall there are concerts and exhibitions happening every day of the year (apart from Christmas Day). Plus there's an amazing street food market just behind.

We saw a beautifully curated exhibition marking the 50th anniversary of Alladin Sane David Bowie's iconic 1973 album with one of the most influential album covers ever shot by photographer Brian Duffy On until the 28th May you can keep track of future events happening at this space via the website https://www.southbankcentre.co.uk/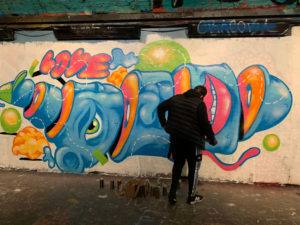 Just a little further as you pass Waterloo Bridge you'll come to the National Theatre where there are usually several productions happening at any one time. Another good website to check out ahead of your trip https://www.nationaltheatre.org.uk/whats-on. Then just behind the BFI imax cinema
This dynamic area at the heart of London's cultural scene is not just great for paid entertainment. There's plenty to see as you walk along the riverside walkway, lined with trees, restaurants and historic pubs. Often a site for fairs, book stalls and pop up events. Sightseers can also admire the skateboarders doing their thing under the arches. Not originally planned as a purpose built park, the area has been adopted as the spiritual home of London's skateboarders
Another popular addition is Leake Street which now has Marc Craig as artist In Residence 2023/24, who can guide you through the process of creating your very own graffiti masterpiece.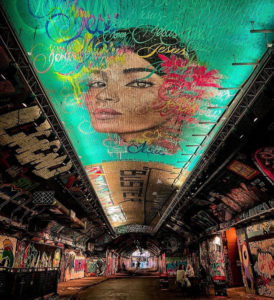 After a quick tour of the vibrant Leake Street scene you may wish for a little retail therapy at Gabriel's Wharf, a former garage site that has been turned into a popular collection of independent restaurant and shops. Or the OXO tower which also has shops, galleries and a restaurant with amazing views of the city.
Or take a look at the Tate Modern, home to the nation's largest collection of art dating from the 1900s. From here you can see views of St Paul's Cathedral, as well as the Millennium Bridge, designed to look like it's twisted.Then Shakespeare's Globe theatre, a reconstruction of the Elizabethan playhouse and the only thatched roof permitted in London since the Great Fire of London
A great finishing point for your bankside walk is Borough Market which can be found at London Bridge. This is the largest and oldest food market in London dating back to the 12th century. There's something for everyone here, from fresh produce and flowers to a sit-down meal.