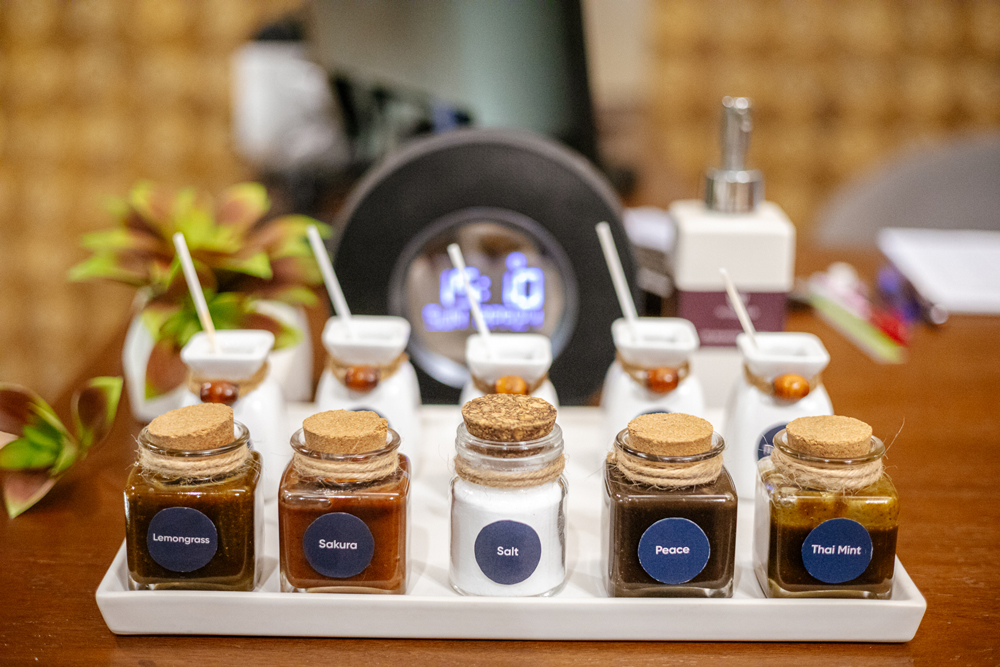 Here in Pattaya we are lucky to have Khun Wan of the Avani Spa. She has given massages to royalty, not only in Thailand but also at The Ritz in Paris, and to celebrities such as Lady Gaga at The St Regis in Rome. I was curious to see what Lady Gaga had asked for and was told that she enjoyed aroma massage. So I felt I should also try an aroma massage and opted for the Avani Signature Touch.
Of course in Thailand there are many massage options, but part of what makes the Avani experience so special is the consultation you have. You should allow 15 minutes beforehand for this to enjoy some warm tea and complete the consultation form you are given.It asks questions about your general health, lifestyle and how you hope to feel after your treatment. For example: Energised, Refreshed, De-stressed – you get the idea. If there are any areas of your body that you wish to be avoided – e.g. if you've had an operation, you can mark the sketch on the form with a X and any areas you wish to be given special attention mark with an O.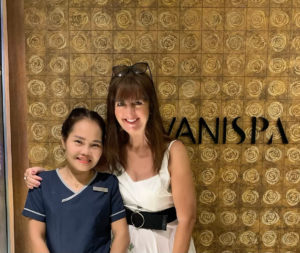 Then you can choose your scented oil. I asked if any of these are made from botanicals in the Avani's own beautiful gardens but was advised that in order to meet controlled standards and not run this risk of any irritants or allergic reactions they must be tested and approved professional products. Amongst these products the Avani even have Cannabis balms and compresses.The resort had to be checked and granted the exact, required licenses from the government inspectors in order to be able to offer these products.- Maybe another time! For now I went with the Lemon Grass.
So consultation done,forms completed, selections made and questions asked and answered it was time for the massage. I was led to one of the beautiful, private massage rooms to shower and prepare for my massage. Inside,the Avani have ensured that every element is catered to give you a perfect setting for your massage: Optimum temperature, soft lighting and ambient sounds. There is nothing to interfere or distract from the massage experience.
I was also delighted to see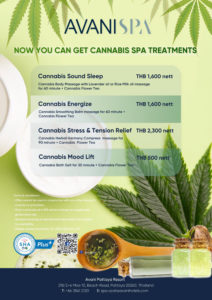 a massage bed with a hole for your face. Although seeming a little odd at first it is in fact the most relaxing way to lie on your front and stops the aggravating neck ache that can occur when you simply turn your head to one side, which is something I am bothered by if I have a massage at the beach.
During this blissful treatment I have to say that never at any time did I feel uncomfortable. Bolsters and pillows were placed under my ankles and knees to give extra support and put my body in the most comfortable position possible.There were no wooden sticks or jerky movements. The pressure from Khun Wan was controlled, consistent and always to the degree that I was happy with and her skill could certainly be felt by the fluid movement of her hands.
So why not treat a loved one this Valentine's Day to a wonderful experience – or go on treat yourself mind and body at any time!
For more information go to
Avani Pattaya Resort
218/2-4 Moo 10, Beach Road, Pattaya 20260 Thailand
T: +66 3841 2120
E: [email protected] https://www.avanihotels.com/en/pattaya