Koh Phangan – Impressions from a non-party, non-yoga person and former Digital Nomad!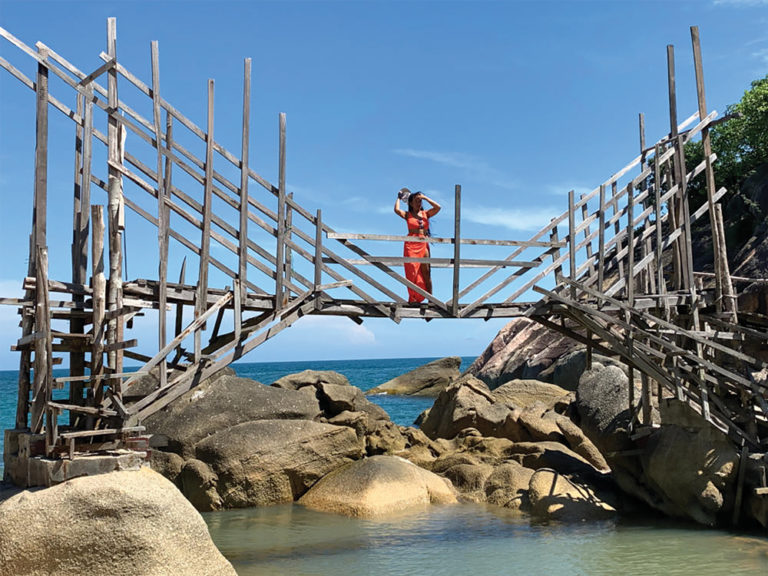 Just for clarity, maybe I should preface this article with the proviso that I am a sane and mature human who loves to travel and explore new places. I don't think that I can be stereotyped and apologise in advance if I do this to others. Koh Phangan is very different with wildly diverse people and sub-cultures that are quite unusual for the rest of Thailand. I am not saying this in a negative view but keep shaking my head as I write this article! My first impression of Koh Phangan was of a green, fertile island with steep hills. Especially on the West of the island where the resorts are to be found below the road with gradients so steep as to limit any guests with limited mobility. .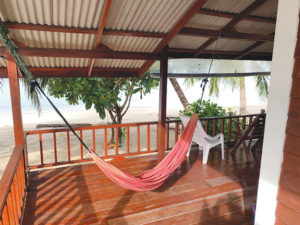 For the first night we booked the Pimmada Hut on Pleayleam Beach, mainly due to its proximity to Thong Sala. Whilst a lovely small resort, it did not state that the roadway down was dramatically steep. Going down was a challenge but coming back up we almost reverted to hands and feet. The chalets were simple but adequate and being the only guests, we were offered their beachside chalet just 2 metres from the sea.
Naturally we were well aware of the reputation of this island with its infamous Full Moon parties and bohemian yoga fanatics, but the mix of visitors to the island is complex. There are many couples, young and old and probably the world's largest collection of dreadlock hairstyles and digital nomads laying claim to their tables at the island's coolest cafés. A real cornucopia and melting pot of world travellers.
Ao Hing Kong is a long but small beach running along the road. Haad Son Resort and Koh Rahan Beach Club are well worth a visit. The beach club is located on a rocky outcrop, decorated in a fantasy/shipwreck style and the bar is very cool with spectacular views.
The weather was not at its best when we discovered Haad Salad (Salad beach) but we were most fortunate to find a great offer on Booking.com for the superb Salad Buri Resort.It is a good-sized resort with a comfortable beach restaurant, 3 swimming pools and direct beach access The hotel and Salad beach became our comfortable home for 4 nights which is quite unusual for us as we generally change hotels/resorts every day!
Also on the beach is a thatched roof massage establishment. There is nothing better than having a professional massage with just the sea breezes to cool you.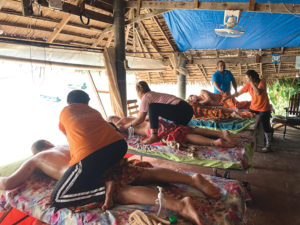 North of Haad Salad we explored Mae Haad Beach and the curious sandbar out to Koh Ma. From Mae Haad Beach it is just a short drive to Ao Chaioklum beach and its selection of fish restaurants overlooking the bay. Now in full exploration mode we headed to Haad Kkom The road twisted and some of the gradients were spectacular with scenic views that were impressive
We then followed the road along Haad Khom to one of the most beautiful little beaches in Thailand, Haad Khom. With just 2 small resorts of bungalows directly on the edge of the beach this must be what most people can only dream about.
The next bay is Ao Thong Nai Pan Yai which has managed to avoid the onslaught of International hotels and resorts featuring simple resorts all directly on the beach.Returning towards Thongsala we turned left at the roundabout towards a series of waterfalls. There are some places to park and walk down, again quite steep and at the Phu Dang waterfall you can swim in.
Follow the falls to the end of the road and you come to the Deang Waterfall, and as the river flows into the sea the vista of Haad Than Sadet beach suddenly opens through the foliage.
Probably one of the most enchanting beaches that I have visited, there is an excellent little bar, lovely white sand and an impressive, surrealistic bamboo bridge over the small river. From There we drove on to Haad Rin Nok beach, the location of the notorious Full Moon Parties.The 'avenue' to the beach is littered by boarded up shops but the beach itself is actually impressively beautiful.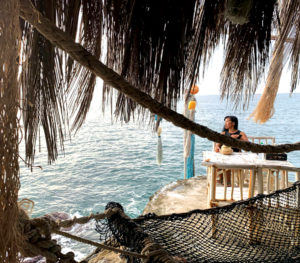 Finishing on a high, our exploration of the island was complete and it was time to book the ferry for Koh Samui. What are my impressions of Koh Phangan? It is well worth a visit; the scenery and beaches are truly spectacular. It is probably the least Thai place that I have visited. Very few Traditional Thai wais and not so many smiles as the majority of the staff are from Myanmar. Not a criticism, purely an observation. The people on the island are a mix of modern-day hippies, bohemians, yoga aficionados, vegetarians,vegans, partygoers and couples blending together like one of the island's smoothies. Be prepared for steep gradients on the road, if you do take a motorbike, please wear a helmet as it is not easy to drive. Otherwise enjoy and bask in the glory of this island paradise!
For more from Kim Waddoup visit his website https://meanderingtales.com/