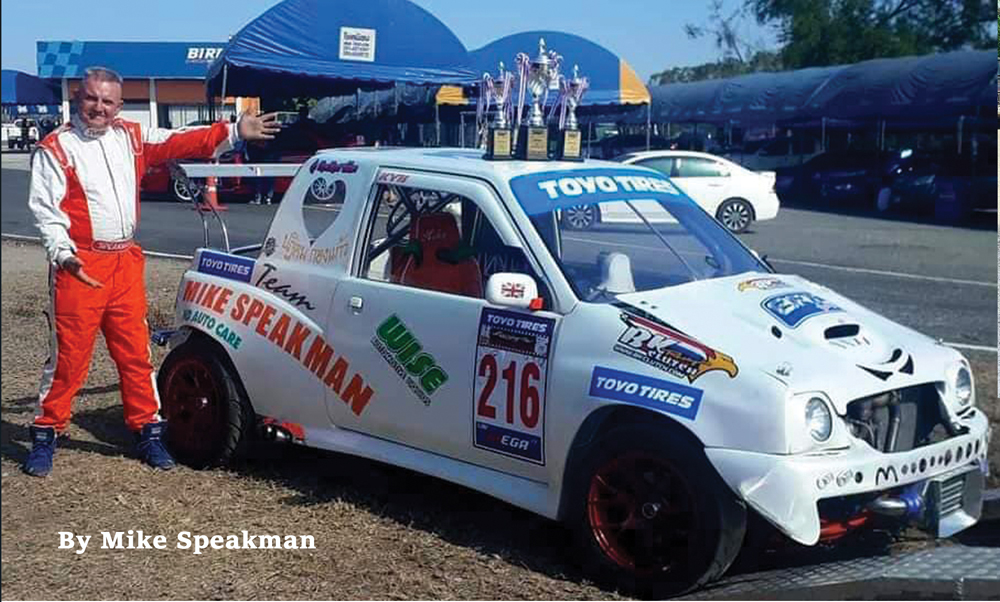 I first moved to Pattaya, Thailand in 1992, from Blackpool in the UK. My interest has always been in cars. In 2002, my ex-wife purchased a Daihatsu Mira, and I was very impressed with these small, economical cars. I then purchased my first Mira Turbo in 2003, and I fell in love with it.
In 2011, I began going to watch the Mira cars race at the Bira International Circuit race track, and I met a fantastic community of other Mira lovers. After a few years of watching and filming the races as a hobby for Facebook, I decided to enter a race in 2015.
My first race car was my white Mira turbo. I spent many months modifying it in preparation for the track. My first race was in 2015 at the Bira Circuit, in the Toyo Tires C7 race, racing alongside other Mira cars. In my first race, I seemed to do very well, and I could not wait to get back on the track and compete again. I competed in every C7 Toyo Tires race since then.
I first stepped foot onto the podium back in December 2015, at the Chang International Circuit in Buriram. I was overwhelmed that after all my hard work and dedication, I finally made it onto the podium, which was a great feeling, and I could not wait to achieve more.
After almost 8 years of racing, I have now received over 140 prize presentations, cups and awards.
My proudest moment was in March 2018, when I started competing against the bigger 1500cc series cars and managed to win 1st place on the podium in the Toyo Tires race. Since then, I have progressed to racing at Bira, Buriram, and Kaeng Krachan circuits.
I have built a total of 4 competing race cars, including the rebuilding of the engines on 3 Mira's with 660cc JB, EF, and K3 1300cc engines, fully race prepared, and one Daihatsu Copen, costing a total of a few million baht. All my cars have been professionally modified by two fantastic professionals, Kittikun Polsamak and Yub Ridmad, in Bangkok.
My scariest moment on the track was in March 2022, when my Mira pickup car completely flipped over when I hit a patch of oil on the track as I was leading in 2nd place. It happened as I was trying to overtake the group leader, when, unfortunately, my car completely slipped, flipped, and rolled across the track, landing on its roof, and rendering me upside down as I watched all the other racers pass me by.

 

I have since rebuilt my Mira pickup, which will soon be competing on the track once again.
As for my future plans, I have been building my very first drag racing car for the past 2 years, which is almost complete. It will be my 5th completed race build,

 

and I am soon to enter the drag racing scene at Bangkok Drag Avenue.
I have also inspired and trained my daughter, Megan Speakman, to compete with not just 660cc, but also 1500cc series cars, alongside myself and other racers with many years of experience. I am very proud to say she has achieved first place and has stepped foot onto the winners' podium after only 3 races. We now race as a family.
At the age at of 67, this is a great life achievement for me, and I have no plans to stop racing anytime soon.
Car racing is not only my hobby, it is my life.