Cambodia Visa Runs are Back!
In the past I had taken many of my customers on visa runs with a minibus but when COVID-19 hit, everything changed and borders were closed for a long time with no more daily border run crossings available. Now the border to Cambodia is open again for visa runs and other business trips.
Although at the moment it is still slow on the tourist side I decided to do private runs with only 3 people per car and it works well. It is comfortable, relaxed, fast, and not too tiring so you don't come back exhausted after the trip.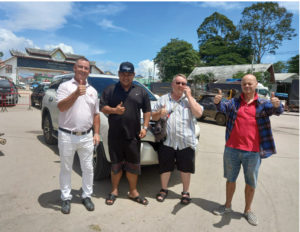 Our driver is a professional driver who speaks both English and German and I help with all the necessary paperwork.  Customers can book to go on a daily run. We leave Pattaya at 7 am and return between 3.30 pm to 4.30 pm. We usually stop at McDonald's for lunch on the way back to Pattaya.
For more informations, you can visit me at Karen Services Office or call 087 941 3986  or email: [email protected]  or [email protected]