From Blackpool to Bira & Buriram By Megan Speakman
My interest in car racing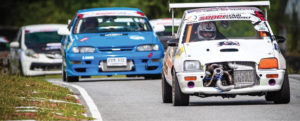 began around 8 years ago when my father, Mike Speakman, started racing. I would watch the live videos of his races and admire his skills on the track. Racing is not only his hobby, it is his life. He built his own modified cars and it didn't take long for him to benefit from the had work as soon he was winning most of his races. Now, his house is filled with over 140 trophies!
My racing experience started back in late 2021 when I told my Dac 'I would love to do that one day' and he decided to make that wish become a reality. I attended his races at Bira International circuit to get a feel for it, but it had been over 10 years since I had leamt to drive a manual car and had driven an automatic most of my life. He bought me a manual car to practice driving around town, to get a feel for the gears and clutch. Next, he bought ma a racing helmet and a custom-made race suit, before I had even stepped foot onto the track.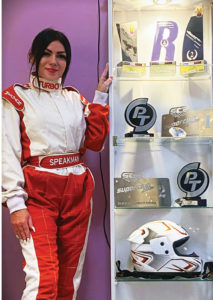 March 9th, 2022 was the first time I sat in my race car, a 660cc Daihatsu Mira which my Dad used to race. I was so nervous that I felt my heart was about to beat out of my chest. We rented the track for the day, to practice on. I spent 3 hours driving around the track, and got a best lap time of 1:32 This was my first and last practice day before my first-ever race, only 2 weeks later, on March 27th, 2022. I slept only 2 hours the night before and was really nervous. I had never been on the track with other cars before but was made to feel very welcome by others at the track, and soon before I knew it, I was sitting behind the wheel at the starting line. my heart almost beating out of my chest That's the moment I thought to myself 'whet have you gotten yourself into?', but it was too late to back out. The racers revved their engines, the crowds cheered, and once the red light was out and the green flag was waved, it was race time. All those nerves I had bottled up for days turned into an adrenaline rush, and once the race started, I was determined to do my best to make my father proud, I ant 5th place in my first race and was very happy with my result, as I was competing against other drivers who had many years of experience, I couldn't wait to race again.
I've met a whole new community of friends at the track, all of whom have been very welcoming and will go out of their way to give me a helping hand whenever I need it. At the track, racers are not competitors, they are family. I have also found a common interest and hobby which I can enjoy with my Dad, and we help each other as a team
I will continue to try to improve my racing skills and hope to compete in many more races in the future. Christmas Day will be my first ever time racing at the famous Chang International Circuit in Buriram, and I dream to become as successful as my Dad and set foot onto that #1 Winners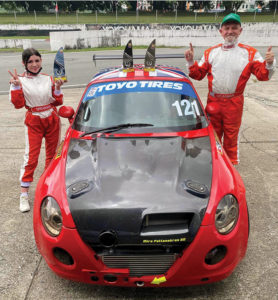 On June 13th, less than three months after my first race, I finally stepped foot unto the '1st place' winners podium, something I had been longing for, but didn't expect to happen for many years. Six months later, I now have 7 trophies at home and have competed in 7 races overall, in Toyo Tires, PT Maxmtron, and Super Club racing events. I have a First place, 2 x second place, 3 x fourth place, and a fifth place. My proudest moment was when I won 1st and 2nd place in the Super Club races, as I was racing against larger cam in my little 660cc Mira, with experienced dnvers who had been racing for many years_ My best lap time is currently 1 22.