Discovering Dr. Nicha at Nicha Clinic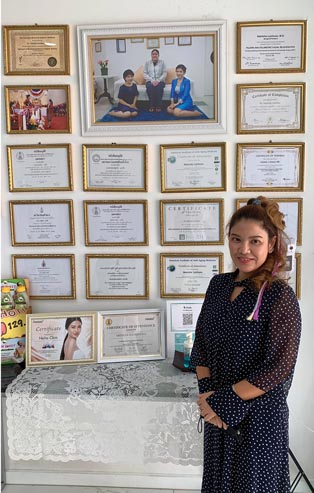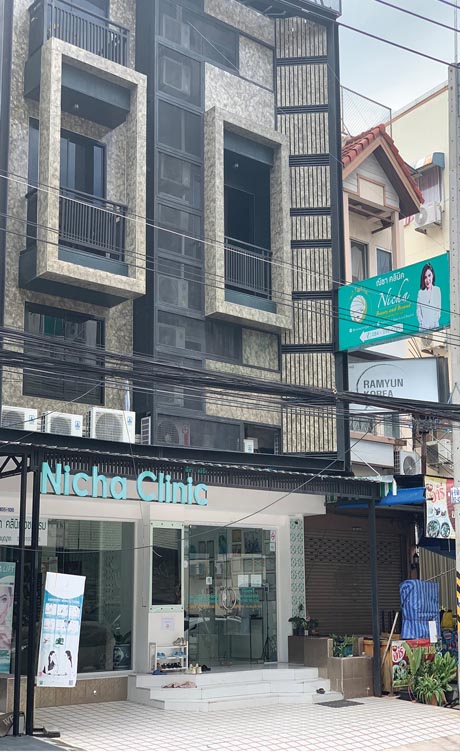 Dr Nicha comes from a medical family. Her father is Dr Thepthai who we wrote about in our June issue of Discover Pattaya in the article "When did you last have your teeth professionally cleaned?" However, Dr Nicha's area of expertise is not in dentistry but in the aesthetic field of dermatology, cosmetology, health and nutrition.
Known to many in Pattaya, she was part of the management at the cosmetic department in Bangkok Pattaya Hospital and has had her own clinic here for over 10 years. It was previously located near Central Festival but is now opposite Apus Condominium behind Big C Extra. However, if you are passing by and would like to see the Dr remember that it is advisable always to make an appointment as she is an extremely busy lady with a further 2 clinics in Bangkok.
Dr Nicha has a very good manner. She is friendly gentle and takes great care to explain the procedures to her patients. She also looks extremely youthful which is an excellent recommendation for her services.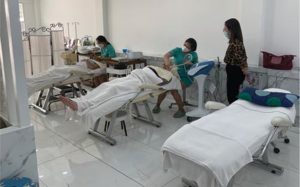 The other point that will strike you as you enter the light, bright airy clinic, is the fact that on every available shelf or wall space there is a certificate. These have been awarded to Dr Nicha on completion of many specialist treatments not just for beauty such as lasers for rejuvenation and anti-ageing but also for medical procedures such as PRP for sports injuries, allergy and vitamin deficiency checks. It is also interesting that she sees not only females but also many male patients who now make up about 60% of all visitors to the clinic. Her staff are also exceptionally well trained with very good English most of them have been with her for at least 8 years and she even has a Russian translator.
Dr Nicha provides a one-stop shop taking great individual care to provide a holistic treatment tailored to individual needs. Above everything, her priority is safety and the clinic uses only the very best, top-grade equipment and machinery So Discover Nicha Clinic for yourself and you're sure to see the benefits.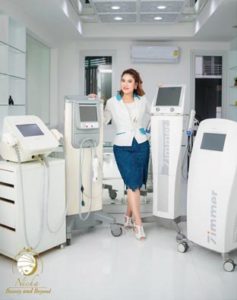 A HEALTHY HOLISTIC APPROACH TO REJUVENATED SKIN
When it comes to anti-ageing and beautifying procedures the phrase everyone likes to hear is "non-invasive". Nowadays there are many ways to enhance your natural beauty without "going under the knife". However, you really do need the help of a qualified professional like Dr Nicha to let you know what will suit you best. Amongst the many options available at the Nicha Clinic in Pattaya are the painless: COOLGLIDE ND: YAG LASER REJUVENATION, MICRODERMABRASION AND UTRADEEP VITAMIN treatments. Microdermabrasion is a great start to any cosmetic procedure as it removes the buildup of dead skin cells which will immediately improve the skin's condition and allow additional procedures to reach further down into the epidermis. The sensation is rather like a small suction pad being drawn across the face which in addition to helping with blemishes, One lines and sun damage can also work very well in treating acne.
The Ultradeep Vitamin application also helps remove dead skin cells. With the use of a machine that emits high-frequency sonic waves this facial treatment also repairs and stimulates the skin which is then very receptive to receive the pleasantly cooling sensation of the Vitamin serum.
The CoolGlide ND; Yag Laser is able to reach both the epidermis and dermis layers of the skin to help combat wrinkles and imperfections. The sensation is of slightly hot pin pricks over the skin and to be honest if anything the whole procedure is simply relaxing.
It's especially pleasant to note that the general temperature in the clinic is just perfect neither too hot nor too chilled and the staff are extremely gentle and pleasant. There is even a room suitable for family relaxation and privacy. So go on Discover Nicha clinic for yourself.
Nicha Clinic Pattaya
Aesthetic & Wellness Beauty Clinic
084-292-4795
202/105-106 Moo 9, Nongprue Banglamung, Chonburi 20150