Persian Cuisine delivered to your door - Culinary Kebabs & Grill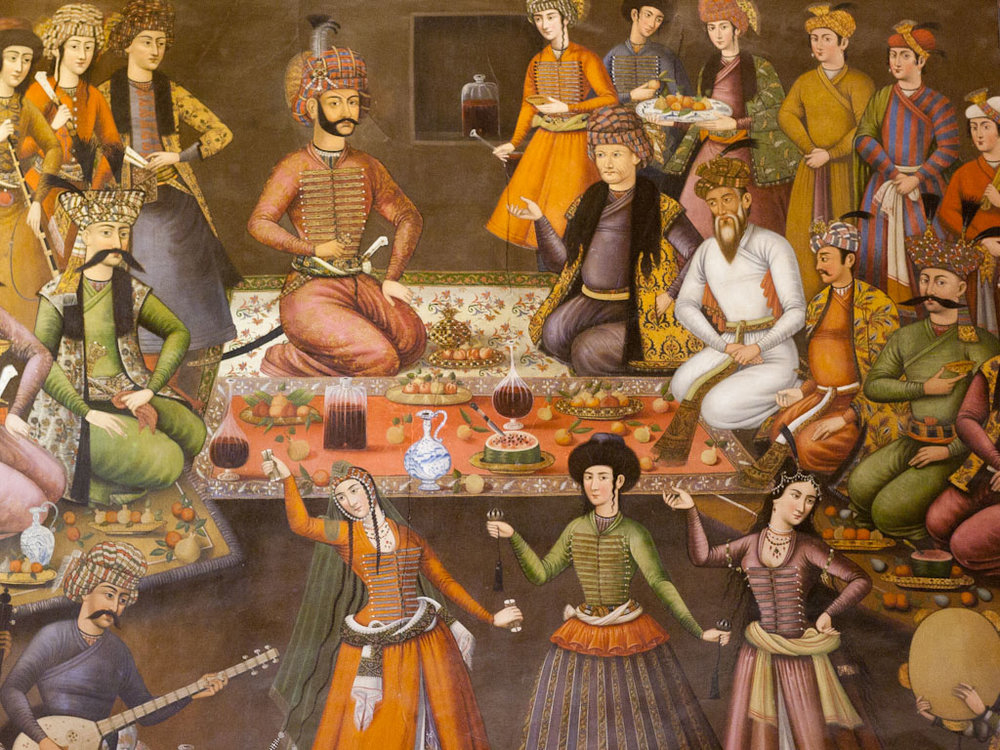 From the earliest times, Persians were known for their hospitality, offering rest and refreshment to weary travellers that would often include a sumptuous meal. Traditionally this would include the finest food available, and always in the most bountiful manner possible. Persia's geography, history and cultural influences have shaped the diversity of ingredients and the methods of cooking in one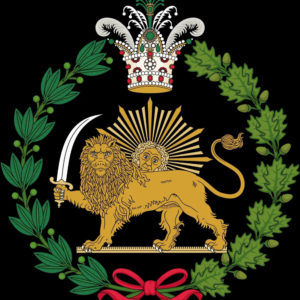 of the world's oldest and most sophisticated cultures. Persia – or Iran – has been subjected to repeated invasions, but has maintained its culture, language and identity throughout the centuries.
The extraordinary variety of landscapes and climates in this vast country is reflected in the country's food. In the north, around the southern coast of the Caspian Sea, the land is lush and green and as a result of plentiful rainfall, there is a great diversity of fruit, vegetables and herbs. The cuisine in this region features simple, fresh notes of taste and aroma, and there is a preference for sweet and sour flavours, as opposed to spicy. Further south, in the provinces near the Persian Gulf, where the climate is drier, the season for fresh ingredients is much shorter and the variety available is not as great.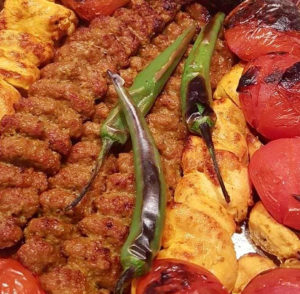 There is also a long tradition of trade through the sea routes with spice-rich countries like India so the resulting cuisine is more complex with long notes of spices, tamarind and chillies
Kebab (or Kabab) is the most popular Persian dish that everybody loves. It was actually a Caucasian dish brought to Iran during the Qajar dynasty when the royal chefs infused it with a Persian spirit that evolved the kebab into something completely different. Usually, a mixture of lamb, beef, and chicken, the meat is charbroiled over an open fire This is the best way of cooking because the meat instantly gets sealed by the heat, therefore retaining all the important nutrients. The meat is then usually served with rice, often saffron flavoured rice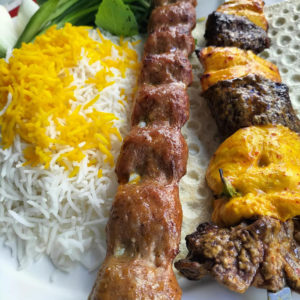 accompanied by grilled tomato, sumac (crushed sour berries,) fresh basil, mint, spring onions, citrus fruits, and sweet onions.
One of the country's most popular dishes is Darbari kabab so named because it was once the food of the Royal Darbar (Royal Court) of the Qajar Dynasty. Using either ground lamb or beef, mixed with spices and onions and chicken marinated in Persian saffron, salt, pepper, lime, lemon and sometimes even sour oranges. So much work goes into the preparation of the meats used in this dish it is one of the tastiest kebabs you can find in Iran.
Now you can enjoy Traditional Persian food right here in Pattaya delivered straight to your door. Amongst a mouth-watering selection of dishes, we tried the Darbari Kebab Set. It is a best seller for the Persian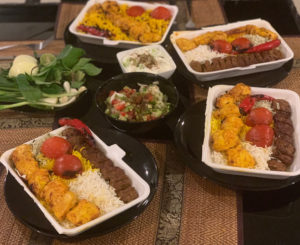 Food Delivery Pattaya Company and excellent value at only 260 baht. It comprised generous, succulent pieces of chicken with tasty lamb and aromatic rice. We were advised to add a little butter to the rice which is cooked without much oil, as the intention is to add butter which makes a real difference in the taste.
Darbari Kabab Set:
– 1 Skewer Lemon Saffron Chicken
– 1 Skewer Lamb Mince Koobideh Kabab
– Served with Persian Style Saffron Rice
– With Sumac, Fresh Basil & Spring Onions
With many more dishes to choose from with delicious accompanying cucumber yoghurt, fresh tasty salad and free side dishes, try a taste of traditional Persian cooking yourself available from :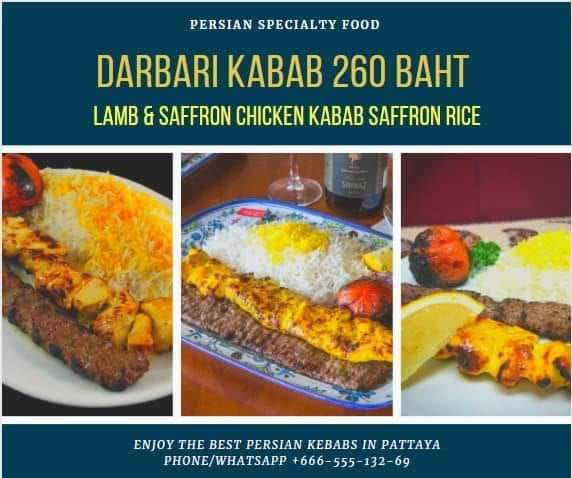 Persian Food Delivery Pattaya
https://www.facebook.com/Persianfoodpattaya
065 551 3269