After reports of 15 confirmed cases of rabies including 1 in Huay Yai and another just off Soi Chaiyapruek in Jomtien,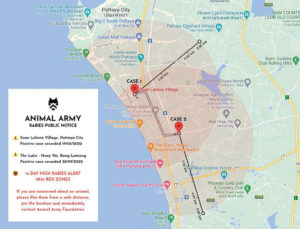 last month the Animal Army embarked on a mass sterilization and vaccination project. The message to the community: " Be alert but please do not panic. Many of our street friends are vaccinated healthy animals but know the signs and contact us with the location and video of any animal you believe could be symptomatic."
It is important to know when dogs are displaying any symptoms of rabies which can include:
 

Erratic behaviour,

 

Excessive drooling,

 

Not eating,

 

Unusual air biting 

 

Disorientated staggering.
Animal Army has excellent experience in handling such initiatives. Starting at Na Jomtien they treated 60 dogs with help from the local community and Na Jomtien council. The Animal Army Foundation is a Registered Foundation in Thailand and Licensed Veterinary Clinic. Their primary focus is providing lifesaving medical care for homeless street animals, by qualified experts. They are also able to assess each animal and decide the treatment required that can include:
Darting & Return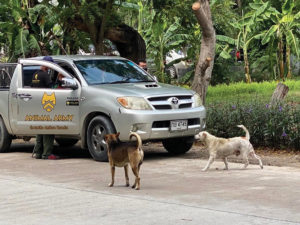 Transport
Health Check

Sterilization

Ear Tattoo 

Vaccination

Parasite Control

1-3 days Hospital Inpatient

Medication

Reflective Collars
The reflective collars are obviously a good indication for us all to know when dogs have been vaccinated and are healthy animals.
Local residents and businesses have been extremely helpful with this undertaking. In fact, pupils from St Andrews International School Green Valley raised 4,000฿ from homemade cookie sales, The good news now is that since last month, the work already undertaken has created more awareness of the problem and the need to remedy it. However, help is now needed to extend the activity into the Jomtien area. There is to be another drive this month supported by local businesses and donations from the public. It will also extend into Pratumnak (funds allowing) so if you would like to help please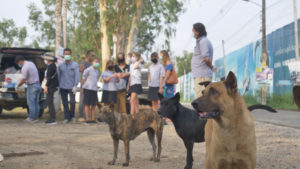 contact Animal Army and join their Facebook page in order to stay updated.
Animal Army Foundation ช่วยเหลือ ปกป้อง ป้องกัน
https://www.facebook.com/AnimalArmyTH