COMMERCIAL SUCCESS – Barry Upton
I have been plagued
during my 46 year professional music and entertainment career by the 'credibility' brigade of, especially, musicians who seek purity in their art.
While I don't have a problem with that and, indeed, appreciate the notion, I have unashamedly been compromising my craft for the sake of financial gain and chart success. I have always thought that being up any chart has more credibility than not being in it at all.
So this will explain my thinking behind past successes and how I came to write or produce them.
I auditioned and put together the internationally famous band STEPS to present a line dancing pop song I wrote called 5,6,7,8. They have gone on to have countless hit records and are currently touring large arenas keeping me in the manner to which I've now become accustomed. This was a blatantly commercial project which has been entertaining fans of them for nearly 25 years. In 1996, while I was travelling back and forth to the States writing country material for line dancing albums in the U.K., it was suggested to me I write a pop style line dancing anthem. This was even too cheesy for many record labels who turned myself and STEPS down when seeking a deal, but eventually Simon Cowell and Pete Waterman were the ones to realize the commercial potential.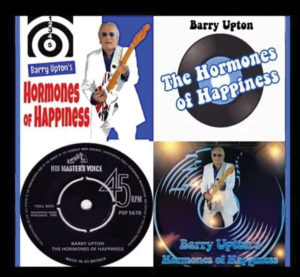 Steps – 5, 6, 7, 8 – YouTube
As a 'serious' musician, it is still possible to retain musical credibility whilst producing a saleable product that people actually want to spend their hard earned money on.
A great example of this is Mike Batt, an orchestral arranger and writer of such classics as Bright Eyes, A Winter's Tale, plus, all those incredibly musical songs by ….. The Wombles. Yes, they had more musicality in them there hits than all the 'credible' indie rock bands put together.
So, as the end of 2021 approaches, I can reflect on an amazingly successful year for myself in the music and entertainment field, despite the obvious hurdles.
I wrote and produced my latest album 'The Hormones Of Happiness' with a blatantly commercial sixties style collection of out and out pop material which has been received with great enthusiasm around the world plus my back catalogue of commercial songs has produced some surprisingly good royalty cheques. The album TV show has now finished production and I'm hoping to sell to Netflix or Disney etc..
BARRY UPTON'S HORMONES OF HAPPINESS – Album Promo – July 2021 – YouTube
In the early 'naughties', I was arguably at my cheesy peak after having hits with the popular Cheeky Girls and a top 5 UK hit with my incredibly derivative and singalongable Yuletide attempt '(I'd Like To) Give You One 4 Christmas' which was performed by myself and the two female singers from my party band under the pseudonym Hot Pantz.
Hot Pantz – (I'd Like To) Give You One 4 Christmas (2005 Mix) (Official Music Video) – YouTube
A couple of years ago, I wanted to do another Christmas song, this time with all the proceeds going to the charity Kate's Project, which helps local poor families in Pattaya.
The lyrics of 'O.M.G. It's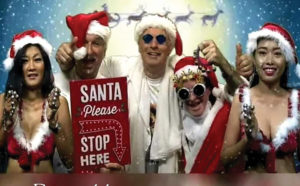 Christmas Again' reflects my personal view of the 'festive' season during which, instead of spending so much money and emotional effort on one particular day, for which most are celebrating for the wrong reason, it would be much healthier to think about and help those who cannot afford any of the trappings of Christmas.
O.M.G. It's Christmas Again ! – Barry Upton's Brotherhood Of Angels – YouTube
I sincerely wish our Pattaya community a bright and cheerful 2022 with as much positivity as we can all muster.