Apparel Made to Perfection by Ama Fashion
Do you want something made to measure?
Perhaps you've seen a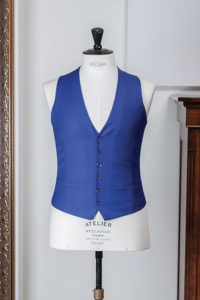 picture of a fashionable item that you need in your life and just can't find? Why not take a photo into Ama fashion to ask them if they can make it for you? Their experienced tailors will help you to select a suitable cloth from their extensive collection and you can also select your own buttons and a decorative lining – they have a wide range to choose from.
Then they will measure you to ensure the garment fits exactly as you want it to. Afterward, simply leave everything to them, and in no time at all, you will be contacted for an appointment. At this fitting stage, the unfinished item of clothing is tried on and any little adjustments made as necessary. Before long you will be contacted again when the finished garment is finished and ready for collection.
I recently did this after seeing that waistcoats for women were a fashion-forward trend this year. I was delighted not only to be able to choose a wonderful sand-coloured linen cloth for the outer but also a really interesting brown lining with matching horn buttons,
I know already that this is going to be a favourite item of clothing for me. I already love wearing it either by itself or with a T-shirt or blouse underneath.
Also, If you have a special occasion or an event to attend, treat yourself to a wonderful bespoke garment from Ama fashion.
Contact them today for expert service and beautifully tailored clothes.
Their elegant shop is on Pattaya Klang (just on the left after the turning with 2nd road towards the beach). Contact them on 038 361 861 or 084137 7783 and check out their website for more inspiration www.ama-fashion.com.