Condos For Sale In Pattaya And Jomtien: The COVID-Bargains!
Since February 2020, the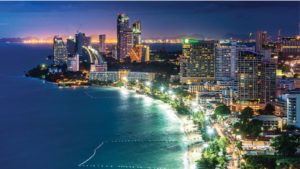 COVID-19 pandemic has brought significant disruption to the Thai economy as well as the global economy. The outbreak is perceived as one of the most serious economic setbacks in history. No matter how you look at it: COVID affects us all. The real estate market is a great indicator. Recession, depression, boom, gloom, expansion, recovery, prosperity… Name a few more, and the real estate industry has been there, done it, and survived it all.
Every cloud has a silver liningTraffic has never been so light! Yeah, sure but what about the effects the COVID-19 pandemic has had on the "condos for sale" market here? Are condos in Jomtien or Pattaya now cheaper? Did their market value drop? As one of the leading real estate agencies here on the Eastern Seaboard, we have a vast collection of condominium listings for sale in the Jomtien and Pattaya regions. From small, affordable studios to the finest of condo apartments and penthouses on the market. What is happening now with this condo inventory? Do we see any changes? Reasons to step-in or step out?
At Town & Country Property we keep a finger on the pulse, every day.
Even before the pandemic crisis, the price of a condo for sale in Pattaya or Jomtien was already very affordable. No wonder tens of thousands of these affordable condo apartments were sold over the years. Amazing really, because it is a luxury to own a condo property here in one of the finest tourist destinations in the world at a price that is more than likely to be only 25% of what you would pay at home. And they just got even cheaper…
One man's misfortune is another man's opportunity Sadly, many people are in financial despair caused by the impact of government measures to control the pandemic. Some people lost their jobs or, at least, a considerable amount of their income. Not all, but a growing amount of property owners are liquidating their assets. Condos for sale in Jomtien and Pattaya are now being discounted more and more. In some cases far below their market values and this is where the bargain hunters and investors come into play.
Developers selling current stock while shelving new projects With more affordable payment plans and some firm discounts on leftover units, developers are reaching out to a larger audience in a bid to keep things moving. Meanwhile, most developers are shelving their plans of new projects for now, until better times. One often unknown reason to postpone the launch of new projects is due to the fact that a lot of material, equipment & machinery comes from China which is facing some serious and unpredictable delivery delays.Buyers are reluctant to complete the transfer. Some buyers are willingly or unwillingly reluctant to complete the transfer of condo units they were committed to buying before the crisis. Deposits forfeited these non-transferred units are back on the market, some with attractive discounts.
So who is buying now? Many condos for sale in Pattaya and Jomtien are being sold to family, friends, neighbors, and agents…Yes, agents. Realtors with spending power tend to pick up the super-hot deals, to relist them afterward. Who else? Predominantly during Q3 and Q4 2020, we saw Bangkokians investing in Pattaya and Jomtien condos. Many local Thai investors secured units and of course the usual domestic buyers, buying for personal use.Are ALL condo projects in Pattaya and Jomtien Beach up for grabs?
No, certainly not. On most of the "exclusive" (often beachfront) condo projects, the sought-after projects, asking prices are "on hold". Good examples are Northshore, Northpoint, Saranchol, Baan Rimpha, The Base, and Centric Sea.
Price-drops may be expected on older condo developments and the so-called "volume-projects". These "volume-projects" are the type of a dime a dozen condo projects with hundreds of similar units to choose from. Mostly "smaller" apartments at affordable prices. Grand Caribbean, Laguna Beach Resorts, Arcadia Beach Continental, Nam Talay, Park Lane, Orient Resort, Amazon, Seven Seas, etc etcetera. Condo units on older projects are often sold by people who have "outgrown" their apartment. They bought a second family home near the beach, for the kids to enjoy. Kids grow up and the apartment becomes obsolete. Time to sell if you can use a bit of a cash injection in harsh times.
Will the condo market in Pattaya and Jomtien recover and when? The property market is resilient and will recover. The question is when. And we must leave that unanswered. Looking at statistics, Thailand, especially Pattaya, is an affordable place to live. Property prices are low compared to many other destinations and the costs of living are low. That means we still have a tremendous amount of leeway to make up. The future is looking bright.
When you want to "Talk Business" and receive 1st hand genuine good deals on condo sales here in Pattaya and Jomtien beach, you should contact one of the Town & Country Property real estate advisors. Our property portfolio is known for its accuracy and diversity.As one of the longest-standing top real estate agencies in Pattaya, we have what it takes to perfectly match you with a nice and affordable condo in Pattaya City or Jomtien Beach.