Apparel Made to Perfection by Ama Fashion
 Do you have a favourite item of clothing?
Perhaps a shirt or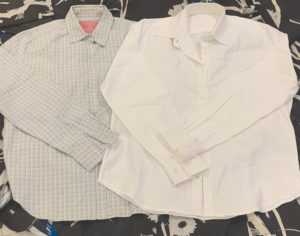 blouse that has seen better days? It might be frayed at the collar or cuffs? Or maybe the colour has faded and it's just not looking as good as it once did after too many washes and wears? Well before you decide to let go of this favourite garment why not take it along to Ama fashion?
Their experienced tailors will help you select a suitable cloth from their extensive collection. You can then simply leave everything to them as in no time at all, you will be contacted to say that your new garment is ready for collection.
I recently did this with a much-loved shirt that I bought many years ago from London's home of shirts Jermyn Street. Ama fashion was not only able to match the quality of the fabric with a delightful, white 2 fold cotton they were also able to mirror the fine stitching and special details such as the two-button cuff and placquet.
Needless to say, the fit was exact and the quality of the buttons was excellent.
Another way to spruce up your clothes or add to their longevity is to have them altered. Have you lost weight recently? If an increased sports regime during the last few months has helped you shed kilos then you can go to Ama fashion to have your garments expertly taken in – or let out if necessary!
Contact them today for expert service and beautifully tailored clothes.
Their elegant shop is on Pattaya Klang (just on the left after the turning with 2nd road towards the beach) and you can contact them on 038 361 861 or 084137 7783. Check out their website for more inspiration www.ama-fashion.com.