EMMA RADUCANU WINS THE US OPEN TENNIS
                                             by Steve Wade
Sometimes something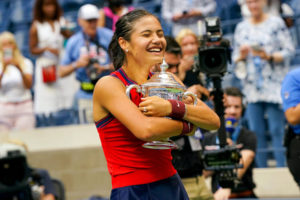 happens in sport, that even if written in fiction you would think ridiculous. Emma Raducanu winning the women's open tennis at Flushing Meadows is one such event. Not only did she win it, she did so without dropping a set right throughout the entire competition, qualifying rounds included, and she doesn't turn nineteen until November!
She went into the qualifying rounds of the event ranked 150 in the world due to a good showing at her first Grand Slam event, Wimbledon in July, where she reached the fourth round and a final appearance in a minor event in the US. After reaching the main draw she became the first player to reach the final of a grand slam event, male or female, after coming through qualification.
After winning the final in straight sets against another teenager who had performed brilliantly at the event in her own right, Leylah Fernandez, Emma became the first British winner of a Grand Slam event since Andy Murray in 2016 and the first female since Virginia Wade in 1977. Her world ranking has risen from 150 to 23 and she is also now the British number one. Even more impressively she is only the second debutant in the history of the event to win at the first time of asking.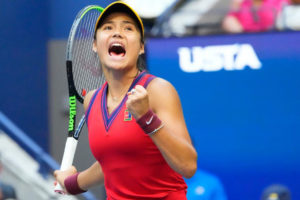 Emma Raducanu was born in Canada to parents who originated in Romania and China. The family moved to the UK when she was two years old and Emma holds both Canadian and UK citizenship. She started playing tennis at the age of five and attended school in Bromley, a suburb of London. Although she participated in many sports, Tennis was always her overriding passion.
What seems to be a key factor in the massive improvement she has shown has been the replacement of her old coach, Nigel Sears, father-in-law of Andy Murray, to Andrew Richardson, one of her former youth coaches. Where she can go from here is anybody's guess? She has been catapulted into worldwide stardom and a large part of her future will be the inevitable attention she will get and how that will affect her sporting career.
It really is a remarkable achievement, as can be seen by the amount of media attention it has generated both in the UK and around the World. In the many interviews she has given she seems to be remarkably centred and able to deal with all the attention that her achievements have brought upon her. It will be crucial to her future in the sport that she maintains that balance. If she does, there's no telling what she can achieve.