Barry Upton autobiography "Confessions of a Pop Tart."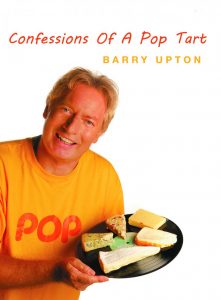 Multi hit songwriter/producer Barry Upton has just published his autobiography titled "Confessions of a Pop Tart."
He was a front line member of chart toppers 'Brotherhood of Man' in the early 80s and became a top U.K. nightclub DJ in the later 80s, while writing and producing for many top artists.
In the early 90s, none other than Simon Cowell spotted Barry's talent and on signing him up, gave him the money to buy his own studio which immediately resulted in a top ten hit.
A few major chart hits followed but Barry turned his liking to country music and after many 'line dancing' successes, formed a well-known pop band called 'STEPS' and wrote/produced their most popular worldwide hit, 5,6,7,8.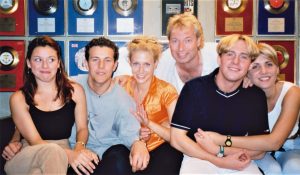 More chart successes followed plus a song in the double Oscar winning film 'Little Miss Sunshine'.
For the past 12 years he has lived in Pattaya, as a successful radio/TV presenter, producer and now author.
As a small boy in the early 60s, watching 'Top Of The Pops' on his family's humble black & white TV, drumming along with pencils as drumsticks and chair cushions as drums, it was inconceivable to think Barry Upton would someday appear on that very TV program and that his life and work would cross paths with so many icons of the music and entertainment world.
It was then inconceivable that, one day, he would write and produce songs that would become international hits & putting together a famous successful world class pop act would, somehow, influence culture around the world, especially in the U.K., Japan and Australia.
He even went onto become the musical director for a major U.K. political party, commentate for SKY football and the BBC at Wimbledon's tennis championships, plus be properly knighted Sir Barry Upton … yes … 'SIR' BARRY UPTON … an award from the Philippines.
Recently, he has been back in his studio, writing and producing albums, 'Fab Baz Pop' parts 1, 2 & 3,  plus his current release, 'The Hormones Of Happiness' which have yielded even more success including a few charting singles.
It was showbiz friend Shane Richie, who labeled him a kind of 'musical prostitute' or 'pop tart'.  
In this book 'Confessions of A Pop Tart', you can find out why?
Read the book for free by clicking on this link…..pattayatrader.com
Optionally, Barry would be delighted if online donations to his supported charity were made, helping to feed poor local Thai families in Pattaya. 
For more info, E-mail [email protected]