The Coffee Detective Visits The New King of Coffee on Pattaya Beach Road
Finding a good, artisanal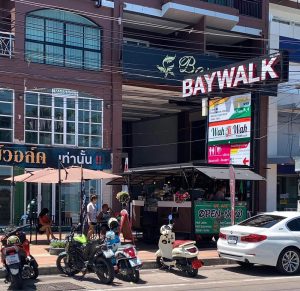 coffee on Pattaya Beach has long been a challenging task but help is now at hand as the great people from King of Coffee have opened directly on Pattaya Beach Road outside the Baywalk Residence.
Having only opened their first branch of King of Coffee in Jomtien Beach Road less than 6 months ago they have seen that their unique concept of a custom constructed kiosk, superb coffee from their single origin home-roasted beans and professional service is a formula for success. So attention all Pattaya residents, you can now have an excellent coffee right on the beach!
Location: *****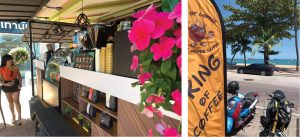 The location is incredibly convenient next to the Royal Garden Plaza and features their unique custom-designed kiosk. Once the current restrictions are relaxed there will be large umbrellas and comfortable seating to encourage visitors to relax whilst imbibing in their favourite coffee.
Ambience: *****
King of Coffee is no normal coffee kiosk! Great care has been taken with the design of their customised trailer and with the quality and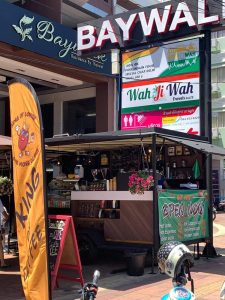 presentation of their coffee. Their coffee beans come from the Doi Chang village and are a single origin Arabica, grown and specially harvested by the Hill Tribe. King of Coffee have their own roastery in Jomtien and produce a range of extremely high quality, freshly roasted and uniquely flavoured coffees.
Quality of the coffee: *****+
Whilst served in an unpretentious paper cup due to the restrictions my double shot espresso was superb with a perfect caramel coloured crema. The acidity is perfect, creating the correct reactions of my taste-buds. The coffee is aromatic with a deep fruity yet nutty taste with a very subtle and lingering finish. At just THB.60 for a double shot this is excellent value for money for an artisanal coffee.
I will most certainly return and when the restrictions are lifted, King of Coffee will become a very popular place for coffee aficionados directly on Pattaya Beach Road.
Service: **** Price: $$