The Coffee Detective Visits King of Coffee
Coffee with Milk or Coffee with Passion! On Facebook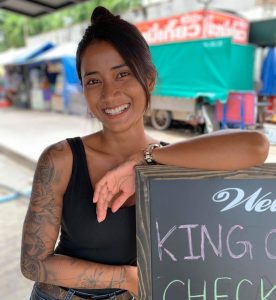 For some coffee is a daily necessity and for others it's a passion.
Location: *****
Joining Pattaya's developing coffee scene is King of Coffee. Its location is perfect at the start of Jomtien Beach Road opposite the Jomtien Beach sign. When there are no restrictions you can sit here and really watch the world go by and even enjoy a Jomtien Beach sunset.
Ambience: ***
Don't expect a smart café, King of Coffee is a custom-designed trailer sporting an impressive Ascaso espresso machine from Barcelona.

Quality of the coffee: *****
What really sets King of Coffee apart is their passion for coffee. They researched and visited a coffee grower in the Doi Chang region situated in the northern highlands of Chiang Rai province. They learnt directly from the farmer how to care for and roast his distinct variety of beans. What I have not mentioned, and it's what makes King of Coffee very special, is that they actually roast the coffee themselves, and the flavours are impressive.
Whilst you can enjoy all your regular types of coffee they are probably the only coffee shop in Pattaya (and possibly Thailand) that offers a Viennese Melange (one espresso shot served in a large coffee cup topped with steamed milk and milk foam, Julius Meinl). Not my preferred cup but will be very popular with the Austrians living here!
The espresso is superb, strong, medium dark roast, good acidity with a wonderful long finish. More coffee specialities are being added and they also offer a croissant for breakfast and some cakes to enjoy. A most welcome addition to the Pattaya/Jomtien coffee scene!  
Service: ****
Price: $