No St Patrick's Day Parade This Year? Don't worry you can still find a piece of Ireland on The Darkside.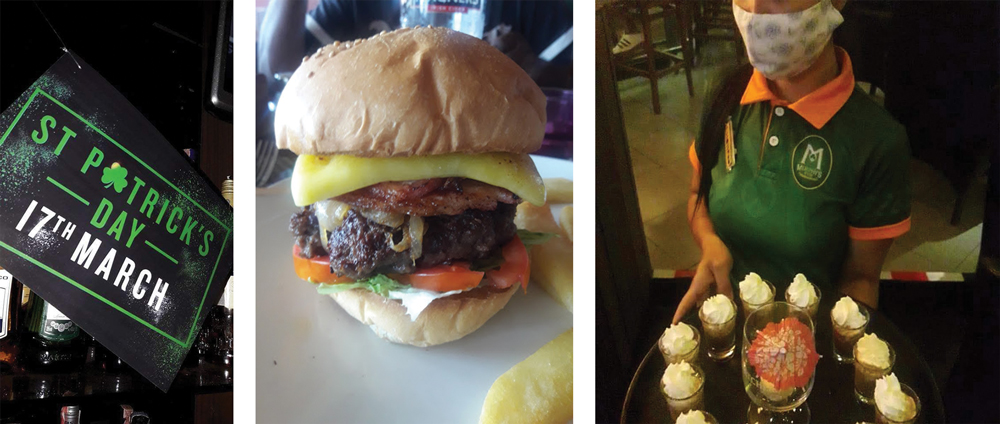 By Gloria Jones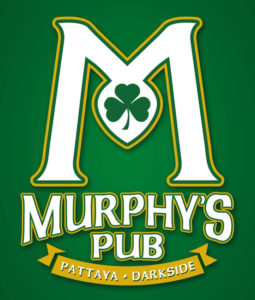 What is it about Irish pubs that make them such good fun? In my travels, I have found them to be extremely popular in the most unlikely places such as Moscow, Prague, and Tokyo. People worldwide gravitate to Irish Pubs in search of a really fun night – looking for "the craic".
Craic or Crack as you prefer is an Irish term for fun, entertainment, news, gossip. in short having a good time, enjoying the company of others – and there you have it. Why Irish pubs are popular is because of the people you meet there and the banter between the convivial host and his guests. The Irish in general are fond of travel, have great stories to tell, love a drink and make excellent hosts.
Steve Murphy is just such a pub owner. I have known him for many years and am constantly fascinated by the way he gravitates from astute businessman to charming nutter! In the midst of a conversation, he will don a wig or slap one on your head – call out to his staff or offer a free drink to a local sitting at his large, centerpiece of a bar,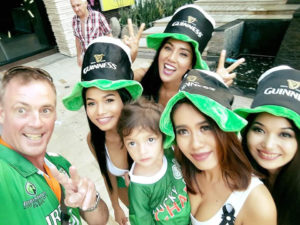 I have to confess writing this article prompted my first visit to his Irish Pub and Restaurant on Soi Khao Noi and I found the difference between this and his previous premises Murphy's Law, on LK Metro to reflect the changes in Steve himself. Now a family man with a wife and two adorable kids Murphy's Irish Pub and Restaurant is family-friendly. and food now plays just as important a part as the drink. The Monster menu is complete with a huge selection of Thai dishes. For, as Steve tells me, many of his clientele will bring their Thai wives and girlfriends to eat at the restaurant so there must be plenty of choice for them as well.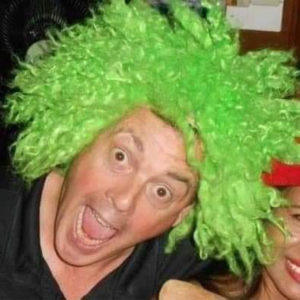 I went with some far more conventional pub grub in the form of succulent bangers and mash – it had been quite a day and I was in desperate need of comfort food and this with a starter of excellent liver pate did the job brilliantly. Steve had the burger for which the term "Monster" should again be used – it was quite the feat of engineering and looked great.
I felt very comfortable spending time here. Outside there is a large swimming pool and the interior is spacious with individual tables, a pool table, darts board, screens to show sports, and just the right level of lighting. It's not too glaring but cozy and warm yet still has enough light so you can comfortably read that extensive menu. I am also particularly fond of the previously mentioned large central bar. The stools around it (with green cushions of course) provide excellent perches for anyone wishing to just come and sit, drink, eat and have a good laugh.
So my recommendation for this March 17th would be to make your way here to Murphy's Irish Pub and Restaurant. There will be plenty of large Paddy's Day free hats to wear – probably some silly wigs thrown into the mix as well, great food fun company, and all the Magners and Guinness you can take. As well as a vast array of alternative beers and drinks Mr. Murphy prides himself on never being out of Guinness – no mean feat during these times of on/off alcohol sales and when I was there I saw plenty of kegs of it inside the circular bar.
So This St Patrick's Day I urge you to go have fun at Murphy's – or in fact, just pop in any night he often has live music and of course plenty of fun and games. Support Steve who's well-known phrase "Never Going Home" is his byline because we certainly wouldn't want him to – Pattaya would be a duller place without him.
136/54 khao noi boonsampan nongprue Pattaya chonburi 20150 Pattaya, Chon Buri, Thailand 20150
096 950 1587