In these topsy turvy times not many things are certain, other than the fact that we have to keep ourselves as fit as possible and look after our money. Robin's Nest are helping us with both by providing healthy value for money options with their new Baht Busters Menu.
Recently launched, the aim of Baht Busters is to provide delicious meals at 35% less than the regular price between the hours of 3pm-6pm
For example they have really generous salads complete with peppers,carrot,olives,onions, tomatoes,cucumber and lettuce. We tried the Tuna option which also included potatoes, eggs and 2 side dressings – French and 1,000 Island. Usually 275 baht – during Baht Buster hours this will only set you back 179 baht
Having started on the health kick we carried on with a refreshing Detox Blueberry smoothie and a Vanilla Protein Shake thick and creamy and full of bananas.
When you walk in from Soi Diana it's good to see that there is plenty of room and comfortable seating – no need to be worried about getting too close to the other diners. Also good to see plenty of hand sanitiser on the tables.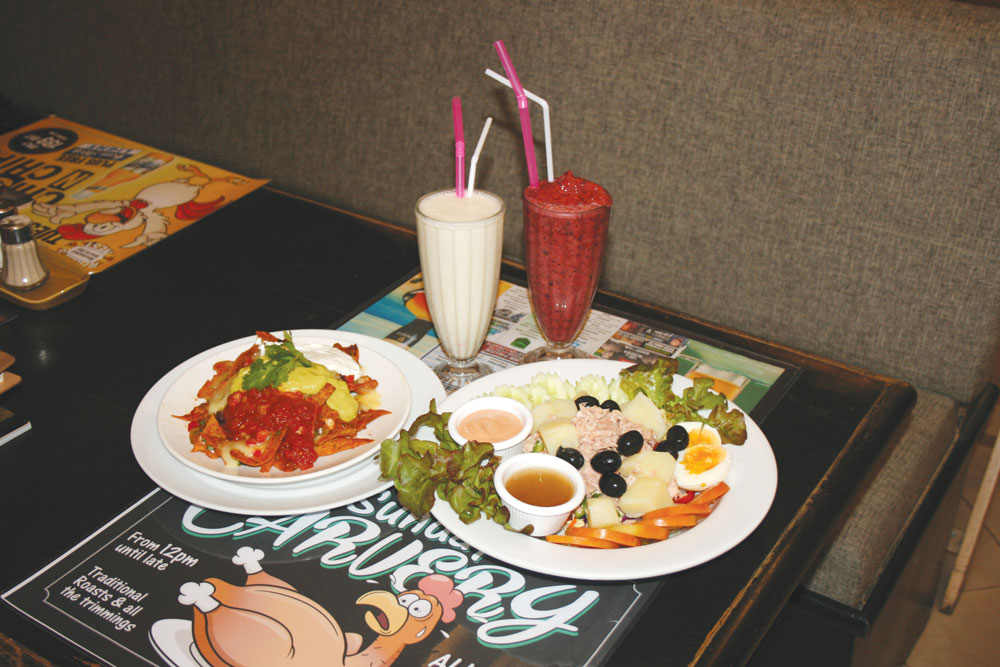 If you're not wanting a salad but craving something more substantial you'll find all the good staple favourites and of course great breakfasts and an extensive Sunday carvery at only 345 baht. I, of course, couldn't resist something with a Mexican flavour and so tried their Loaded Nachos normally 240 baht but only 169 baht during Baht Buster hours of 3-6pm. Now in the past I have been disappointed when there's just a little topping and after you've eaten that you are left with just dry tortilla chips underneath. Not at Robin's Nest! These really are fully loaded nachos. Infused with a slightly spicy Mexican flavour, plenty of kidney beans, tomatoes,melted cheese and best of all great big dollops of sour cream and smooth guacamole. Delicious and substantial.
Soi Diana,Pattaya20150
Tel 038 720 194
FB Robin's Nest @robinsnestpattaya