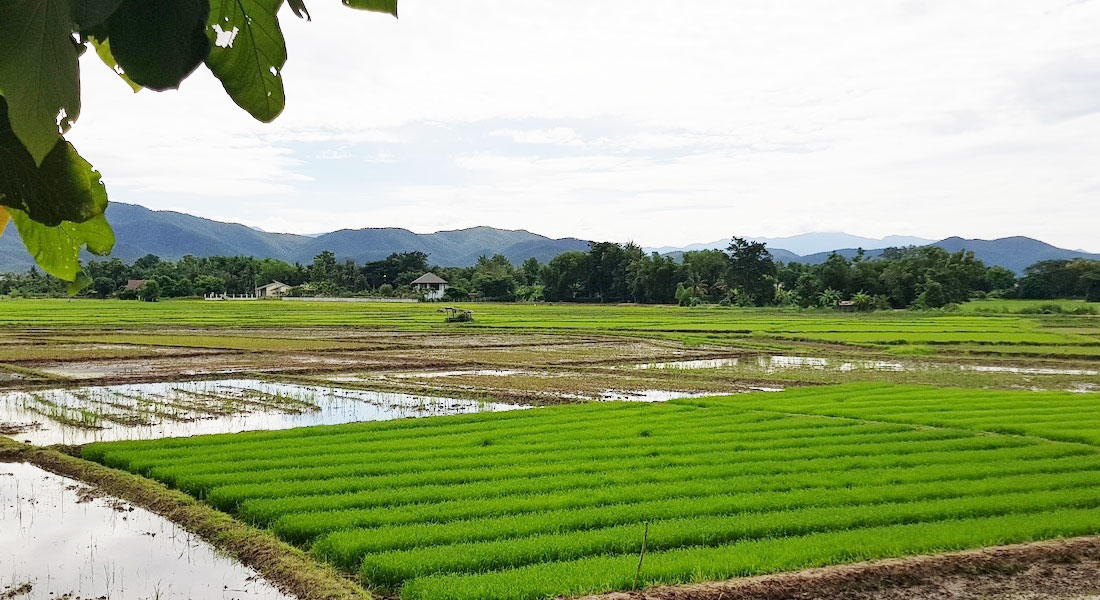 Summertime is here and with temperatures scheduled to reach the mid 40s, it would make sense to head North in search of cooler places.The temperature is several degrees lower than here in Pattaya and . Northern Thailand has its own distinct feel. The architecture and food is unlike any you will find in the rest of the country.
In the mornings in Chiang Rai you can see the mist on the surrounding mountains clear to reveal stunning scenery. It's a good idea to take a bike ride and feast your eyes on some beautiful, rural Thai landscapes. There are water lilies, fields of rice paddies, pineapples and forests of rubber trees with the bark pulled back to encourage latex to drop into the little cups tied to the tree trunks.

The most famous building in Chiang Rai is the white temple Wat Rong Khun, otherwise known as The White Temple. It was designed by Chalemchai Kositpipaat, a famous Thai artist. It is spectacular and quite unique being different from any other temple to be found in the Nation. Macabre and strangely entertaining it has skulls hanging from trees and hands reaching up towards you as if from hell as you cross the bridge away from temptation and towards redemption in the safe confines of the temple. After you visit this spectacular temple you can write your wishes or dreams on silver leaves which are then hung on a nearby tree.
Another popular thing to do in Chiang Rai is ride down the river in a longtail boat from which you can see the extensive tea plantations. These are also worth visiting with acres of rolling hills and green leaves that scent the air whilst millions of leaves are left out to dry. A great place to have a cuppa. From there you can then journey up to the viewpoint on the Thai border and feast your eyes on surrounding counties Myanmar and Laos.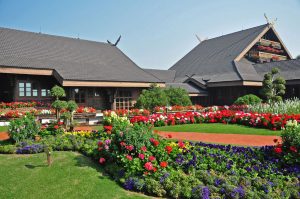 The Mae Fah Luang Botanical Garden is another popular attraction in the region being just a small part of the larger Doi Tung Development. It covers ten acres of hillside that was originally home to the Akha village, Pa Kluay a community and an area which was once a major production and transportation hub of opium within the infamous Golden Triangle. Once a barren opium wasteland capable only of supporting drug traffic it is now a lush landscape that instead supports local agriculture
The gardens themselves are lovely with exotic' Western flowers usually found outside Thailand: roses, dahlias, and tulips arranged in European-style flower beds. There's even a Tree Top Walk whilst scattered about the garden are fountains, rock art, wooden structures and a small maze.
You might wish to visit an elephant sanctuary where you can go to see the elephants roaming freely around. Or if you are lucky, catch sight of a herd of water buffaloes as they thrash through the chocolate brown river.
At Doi Tung you can go for a tour of the royal chalet in the mountains, a wonderful blend of Swiss and Thai architecture. It was once the royal residence of HRH the late Princess Mother and formerly served as her base of operations to monitor the work progress at the Doi Tung Development Project. It has since been transformed into a symbol of the Princess Mother's commitment to improving the surrounding area and the local people's quality of life..
If you have yet to discover wonderful northern Thailand, then the hot season is a perfect time to do it. The hospitality is second to none and the scenery is breathtaking,