Twenty Third Burapa Bike week 2020 Shadows of Love.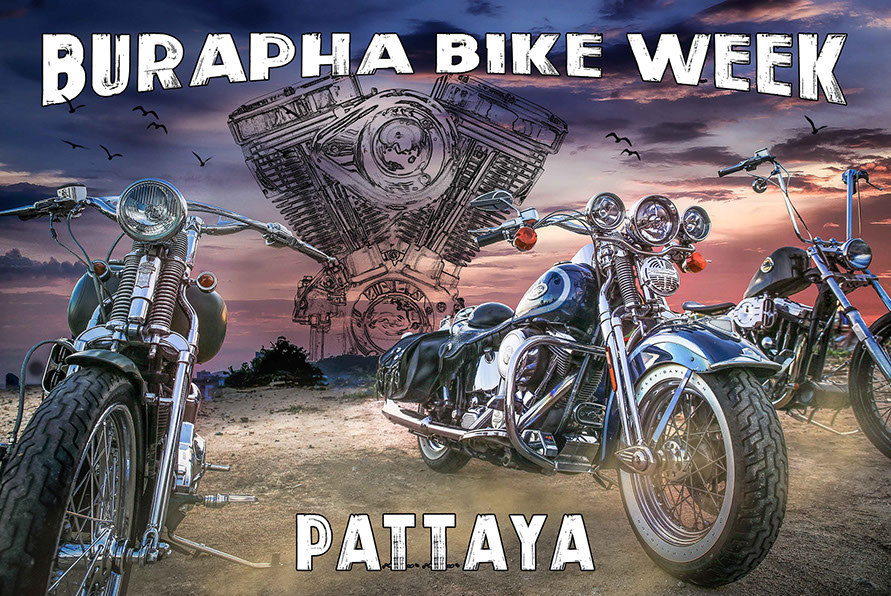 By Rick Click
Maybe a few less turned out this year making a bit more room to enjoy wandering around and soaking up the atmosphere. Not a bike fanatic myself I still appreciated looking at some vintage bikes that truly are works of art from a bygone era.
It's like a Biker's park at times when you spot some interesting characters. A very cool looking gent rode past me on his Harley Davidson touring bike, fully kitted out in matching authentic gear. Plenty of long ZZ top type beards were also observed.
How the event was decorated really added an authentic old school biker vibe transforming a usually dull looking field. Most impressive was a large wooden pirate ship with shark's teeth in front. Colourful Wigwams with Indian dream catchers and for the younger some Steam Punk metallic statues and Robots.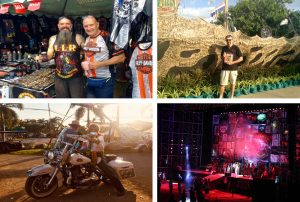 Very reasonably priced authentic goods on offer T shirts, badges and leather items alongside Motorcycle parts, accessories and clothing. Even some amazing modeled push bikes resembling classic Motorbikes for toddlers.
On a practical level wardens patrolled the event and quickly leapt in to sort out any congestion problems. And a focused green campaign to reduce the number of plastic bags used on site definitely worked. Hay bales were setup to keep bikers on a path, I also found them useful as seating.
Feeling a little hot and dry I went on the search for a cold beer. At first I was a little confused about where to purchase beer from, probably because many of the stalls selling food and drink had the Chang logo displayed with their umbrellas but only soft drinks available. Alcohol wasn't served on the Stadium grounds but instead at the lower bowl area of private land which has permits to sell booze.
If you get peckish there is no need to queue up food is everywhere and a great variety of it. I stuck to the burger and kebabs and wasn't tough enough to try the scorpions on offer.
Having mistaken a live performance for a recording I noticed the sound quality from the live stages to be much improved this year. I was also pleased to hear a diversity of music from 50's rock and roll right up to more modern mellow club sounds, something for everyone. Live bands playing on the two main stages.
On the King's stage at 6pm there was a showing of "Burapa Bikers of the East", an hour long documentary two years in the making, telling the story of the Thailand MC biker community and how over the years they created the Bike week. This event has been going for 23 years now raising large amounts of money for registered Thailand Children's charities such as Take Care Kids. Bikers gather from all around the world and meet peacefully as it's understood that any troublemakers will get blacklisted.
Asia's biggest Bike week is a labor of love and a celebration of pop culture giving you that feeling of yesteryear freedom.