We love The Skin Laser and Cosmetic Centre at Pattaya International Hospital
                                                                                  By Gloria Jones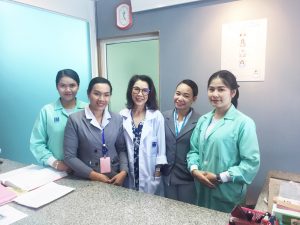 Dr Waraporn and her team at the Skin Laser and Cosmetic Centre are gentle,understanding and go to great lengths to explain what is involved in any and every treatment they have.
This is because Dr Waraporn has been at Pattaya International Hospital in Soi 4 for 20 years now and in that time has given advice and care to thousands of patients. Their needs can range from help with cases of physical deformity to general beautification.and anti aging treatments.
The other great facility Dr Waraporn has to hand is a vast array of medical state-of-the-art machinery from which to select the best option for your face, or whatever she is treating. Everything from PRP to Botox, high-grade fillers and now high-intensity focused ultrasound which was something I was there to find out about.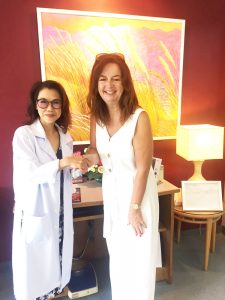 As the doctor explained: "We've used ultrasound in hospitals for many years.For example in pregnancy to look at the developing fetus and for visualisation of internal organs. It is safe and efficient."
When it comes to the benefits of HIFU in Dermatology she goes on to explain that the waves are intensified so as to penetrate the skin at various levels.This helps effectively tighten and lift sagging facial features and the jawline it is also effective for raising eyebrow areas and reducing a double chin.
Dr Waraporn explains "When we age we lose collagen and like a balloon without air, with volume loss come sagging. The HIFU machine places dots of focused Ultrasound precisely at different depths of targeted soft tissue without the need for an incision. At SMAS level it shrinks and lifts, then going deeper induces collagen remodelling until finally attacking and shrinking fat in certain problem areas such as a double chin".
In fact the depth reached,right down to SMAS level (which is the fascia located right above the muscle) was previously an area that could only be worked on by plastic surgeons to pull and lift when doing a surgical face lift. Obviously it is better to avoid unnecessary surgery if non invasive alternatives are available and with this new technology there is also very little downtime. Patients can come during their holiday to Pattaya or even in a lunch hour as the procedure usually takes about an hour.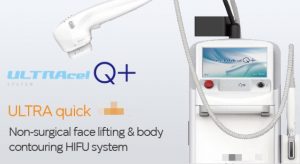 Reassuringly there is no need for either general or local anesthetic as numbing cream is all that is required, and results can be seen literally 8 minutes after with benefits of lifting and tightening of the skin continuing for the next 3 months after. Results lasting for some 12-18 months thereafter.
Dr Waraporn finishes by saying "We usually see immediate improvement through ongoing contraction continuing over a number of months with results lasting at least a year. It is a welcome new technology for nonsurgical skin tightening and lifting"