By Gloria Jones
There is an increasing trend in interior design for bringing the outdoors in, This can be seen with popular colours drawn from nature and the  increased use of plants in all our rooms. 
The need to spend time in nature has been termed 'biophilia' suggesting that humans possess an innate tendency to seek a connection with nature. Multiple physiological and psychological benefits have been identified when bringing nature into an indoor environment, So it is no surprise that this trend has seen an increase in the popularity of wooden beds Also wood has a warmth and tactile quality  that can really enhance the look of any bedroom.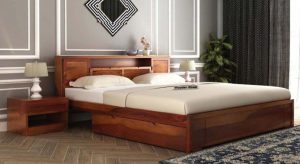 Years ago beds were made of solid woods, such as teak, walnut, sheesham and Rosewood. Today hardwood beds can be made from pine, mahogany and Malaysian rubber wood although teak remains a favourite. In particular teak platform beds are very good for the back and seasoned teak  does not attract termites, wood borers and other mites that attack wood, 
Compared to metal bed frames solid wood beds are far less likely to creak and annoy you, Wooden bed frames can often come with a long guarantees due to the robustness of the construction. Especially those that utilise 'mortise and tenon' joints that allow for a wooden bed frame to last indefinitely.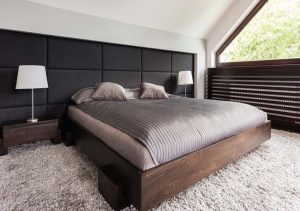 Wood is a natural product and requires minimal maintenance and upkeep whilst being very easy to clean.  A lacquer and protective finish is usually applied to ensure the timber is sealed and guard against occasional knocks and scrapes. Even should accidental damage happen. a wooden bed  can most easily be repaired.
They are sturdy, robust and highly durable and if properly cared for can last for many years providing a great investment in any family home. To maintain them and keep their good looks you need only clean regularly and occasionally polish.
So if all that isn't enough to convince you then you may also want to know that sleeping on a wooden bed is also said to reduced blood pressure, heart rate and stress levels