The noisiest school in Pattaya.
                                                                                                                                            By Derek Franklin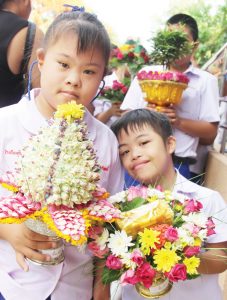 For those who have ever driven through the gates of the Father Ray Foundation on Sukhumvit Road, you will have noticed just how busy it is. While the Foundation may have several projects located around the city, the main complex in the center of Pattaya is home to three schools, including the Father Ray School for Children with Special Needs.
Each morning more than one hundred and fifty toddlers, young children and teenagers with autism, Downs syndrome, cerebral palsy and intellectual disabilities all arrive wanting to be educated. They have nowhere else to go. Most government schools will not accept these children, most teachers would not know how to cope with them and so they sit at home, doing nothing much except watching television or playing computer games. Many of them will have no friends, they are different to other children and they act differently, many times the parents do not know what is wrong with their child. When they children first arrive at the school they are often stressed, nervous and some are terrified, but they soon calm down, they make friends and they start to learn, they love to learn.
Children study in Grades 1 – 6, next year Grade 7 will be added and in 2021 Grade 8. Currently if you enter the Grade 2 classroom you will see several teenagers, much older than your usual second grade students, but that is because these children they may not ever have been to school, have had no previous education and so must enter the first grade before they can progress into the second.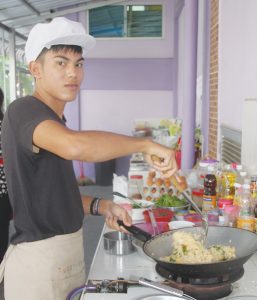 There are also two vocational courses for the older attendees. These courses teach new skills and help the students become independent. They start by learning to clean the school, and how to do it correctly. They help in the kitchen, preparing meals for all the students, work in the Ray Bakery School, learn to bake and how to deal with customers.
Apart from learning to read and write, do maths, use a computer and learn English, the children also learn how to socialize. The quietest time of the day is when they are eating lunch, but as soon as they finish it becomes the noisiest school in town, and it is a good noise, the noise of children being children, playing with friends and laughter, the sound of laughter rings round the whole building.
More information can be found at www.fr-ray.org or email [email protected]