Our interview with the HM Consul.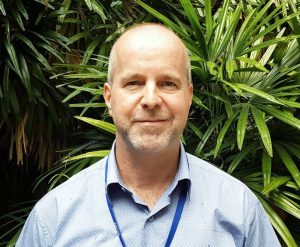 Dear Paul, I believe you have been HM Consul for a year and a few months now ? Can you explain to our readers exactly what the role of Consul entails and how it differs from HM Ambassador?
I arrived on Friday 13th July last year, so a year and a bit, yes. And this is a good question on roles. Foreign Office titles can be confusing. My job as Her Majesty's Consul Bangkok is to lead the Consular team, so I am responsible for the work done by 28 Consular officers, 4 Honorary Consuls and 4 Consular agents to support British nationals visiting or living in Thailand. That could be anything from sending an emergency team out to help the family of a murder victim to visiting British detainees in the IDC to issuing an affirmation of marriage to training Thai police officials on how best to support survivors of rape and sexual assault. Her Majesty's Ambassador, Brian Davidson, leads the entire Embassy team, which is an even bigger job!
Can you give us a brief insight into your daily routine and the work you do both within the Embassy and in conjunction with the Thai authorities?
My days are never the same, but they almost always start with an Ops meeting where we look at the cases the team are working on and decide what to do with the new ones that have come in overnight. Bangkok is the busiest team in the UK's Consular network, so there is usually a lot to discuss. The rest of the day can be a real mix of things, including internal meetings, discussions with Thai authorities, thinking about our strategy and planning, for example for our prevention activities and the coming move to the new office, and work on complex cases (my team would tell you I get too involved in these and they'd probably be right). My honorary title also means I can do some really interesting things, such as officiating at citizenship ceremonies or being the Custodian of the Chiang Mai Foreign Ceremony. Whatever the day brings, I always try to go home for lunch with my wife – it's the first time in my career that I have been able to and it really helps me keep my sanity.
Prior to this position in Bangkok where were you and have you brought your family with you to this posting?
Before this job I was the Consular Regional Operations Manager for China, Mongolia, North Korea, Hong Kong and Taiwan. That's quite a mouthful and quite a big patch, with very different challenges to Thailand. I was based in Beijing, with my family, and I have brought them with me, yes. I'm not sure I had a choice… I have triplet teenage boys, so I am just as busy outside work as in!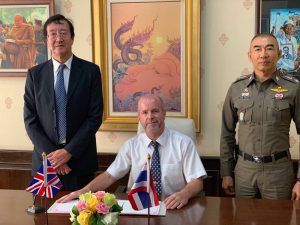 During your relatively short time in Thailand how much of the country have you (and your family) been able to visit and what are your general impressions?
We've not been able to travel as much as we would have liked as a family, partly because my boys love cold weather so we have to go further afield on holidays. But we spent a fantastic week in Koh Samui earlier in the year and we have explored a lot of Bangkok, which constantly surprises me. We pop down to Hua Hin when we can too. Workwise, getting out to meet the British community and our Thai partners is a priority, so I've been to all our busiest areas – Pattaya, Phuket, Chiang Mai and Chiang Rai, Koh Samui, Koh Phangan – and enjoyed all of them. We work on a two-year cycle of visits up-country, so this year I am focusing on getting out and meeting the authorities and partners who work with us in Bangkok.
Have you had many occasions to visit Pattaya ? If these visits were in a professional capacity can you tell us why you were called here?
I have – but only once. And it wasn't for a case – I leave those to the experts in my team. It was on one of the outreach trips I mentioned above, so I met a wide range of Thai authorities and the British community, including of course our Honorary Consul in Pattaya, Bert Elson. I also did a radio interview with Tommy Dee, which I think you can still find on Youtube.
What are your general impressions of Pattaya?
Well, it rained really hard when I came down so I am not sure I saw enough to form a proper impression.. can I say the deepest puddles I have ever seen? But from a professional perspective it was the first Outreach trip I did when I arrived and one of the most successful in terms of discussions with Thai authorities.
Many of us were saddened to see images showing the demolition of the British Ambassador's residence – such a beautiful, historic building. Can you tell us more about the plans for the new British Embassy in Bangkok ?
Lots of people were sad to see the residence go. But we are also losing the old offices, which quite frankly is good news! The new ones in the AIA building in Sathorn include a purpose-built floor for the Consular team, and that means we can do an even better job of helping British nationals. We hope to move in January 2020 and we'll make sure all our customers know about it well in advance. But for the moment we are where we have always been in Wireless Road.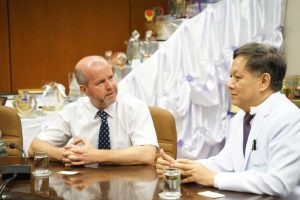 If any UK Nationals in Pattaya require your assistance how should they contact you?
The most important question! They should call +66(0)2 305 8333. If family or friends in the UK are worried about a British national in Thailand, they should call 020 7008 1500.
Although this is probably too large a topic to completely cover in our interview here, could you give us what you consider your most important piece of advice for a UK National living in Thailand (and especially Pattaya) ?
As you say, this is quite a big topic. And many of the British nationals here are real experts on living in Thailand. One tip is to keep an eye on our Travel Advice and Living in Thailand webpages – we work hard to keep them up to date and relevant, and in a crisis we will put important information in our travel advice. And the other is to keep talking to us about your needs – we can't always help but we will always try.
Thank you so much for your time, we hope to see you during your next visit to Pattaya.
My pleasure. I'll be back in Pattaya soon so look forward to meeting you and others in the British community when I come down