Industry leaders converge in Bangkok for Seventh Asia-Pacific Housing Forum.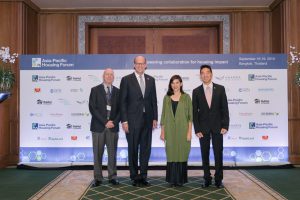 Last month with the theme "Powering collaboration for housing impact," industry leaders and stakeholders in the housing sector gathered at the Asia-Pacific Housing Forum in Thailand to find innovative, scalable and sustainable solutions to the massive issues confronted by millions of low-income families and communities in the climate-vulnerable Asia-Pacific region.
Habitat for Humanity Chief Executive Officer Jonathan Reckford in his opening speech said, "The reality is housing is far too complex. Confronted by the housing crisis, we have a collective responsibility to raise awareness that there are solutions and to engage people in many ways. We need to raise the bar and make connections between housing and health, housing and education, housing and livelihoods…that housing is not the only need for families, but a requisite and a foundation that allows a child to stay healthy, get educated, and become self-sufficient over time."
Now on its seventh edition,the Asia-Pacific Housing Forum has served as a platform to amplify why housing matters. It recognizes the potential to create convergence to drive support to the affordable housing sector; recognize and act on the importance of shelter as a driver of inclusion, resilience and sustainability; and promote leaders and sector experts with high-impact housing initiatives through sharing of best practices.
Egbert Appel, President of the Hilti Foundation said, "We need a strong community of organizations and individuals from across the region in order to initiate solutions for the housing shortage in Asia-Pacific. Networks represent the power of collaboration."
"Working in networks might be challenging because you have to coordinate organizations, different cultures, different ideas, different objectives and people. In this approach, everyone contributes their own strength, excellence, and competence," added Egbert.
Chanond Ruangkritya, CEO of Ananda Development, recognized the importance of understanding the link between solving the construction and land equation by having conversations on the use of exponential technology, and using platforms for innovators at the local level.
"When we talk about urban solutions, we look at urbanization in the next decades when two-thirds of humanity will be living in cities. It is the biggest migration of humanity that we will see in the next 30 years, and most of that will be around Asia. This problem is also the world's biggest opportunity. We look at how we solve this problem with organizations such as Habitat for Humanity, looking at demand and supply, scarcity of these resources, and see how you turn scarcity into abundance," Chanond added.
Forum participants discuss key issues around the housing ecosystem—impact investing, market systems, social inclusion, disaster resilience, people-centered innovation and technology—with sector experts, industry leaders, and other stakeholders in the region and around the world.
The 4-day Asia-Pacific Housing Forum includes the Innovation Awards, a training course on Strengthening Land Tenure Security for Disaster Resilience, and two Urban Thinkers Campus events – the Youth Congress and the Urban Housing Practitioners Hub. These are in support of the World Urban Campaign that promotes the New Urban Agenda and United Nations 2030 Sustainable Development Goals.
Organized by global housing non-profit Habitat for Humanity, the Forum taps on the extensive network of expertise brought by partners from the private, public and social sectors. The Asia-Pacific Housing Forum has the strong support of many including Ananda Development, Hilti Foundation, Aditya Birla Group, HMTX Industries, Cities Alliance, Global Land Tool Network, USG Boral and Ayala Corporation. It has a host of partners including UN-Habitat as a strategic partner, ITC-University of Twente as a knowledge partner and media partners: Devex, Asian NGO and PLACE of Thomson Reuters Foundation.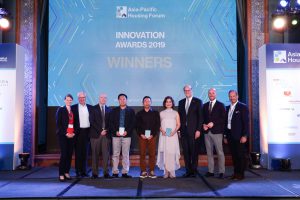 About the Asia-Pacific Housing Forum
The Asia-Pacific Housing Forum is a biennial conference organized by Habitat for Humanity, connecting stakeholders engaged in finding solutions for inadequate shelter issues and promoting affordable housing as a driver of economic growth. Since 2007, the event has brought together close to 5,000 participants, and is supported by UN-Habitat, Cities Alliance, IFRC, Arup, World Bank, Hilti Foundation, the University of New South Wales and other sector organizations.
Visit aphousingforum.org for more details.
About Habitat for Humanity
Driven by the vision that everyone needs a decent place to live, Habitat for Humanity began in 1976 as a grassroots effort. The Christian housing organization has since grown to become a leading global nonprofit working in more than 70 countries. Having been in the Asia-Pacific region since 1983, Habitat for Humanity has supported millions of people to build or improve a place they can call home. Through financial support, volunteering or adding a voice to support affordable housing, everyone can help families achieve the strength, stability, and self-reliance they need to build better lives for themselves. Through shelter, we empower. To learn more, donate or volunteer, visit habitat.org/asiapacific