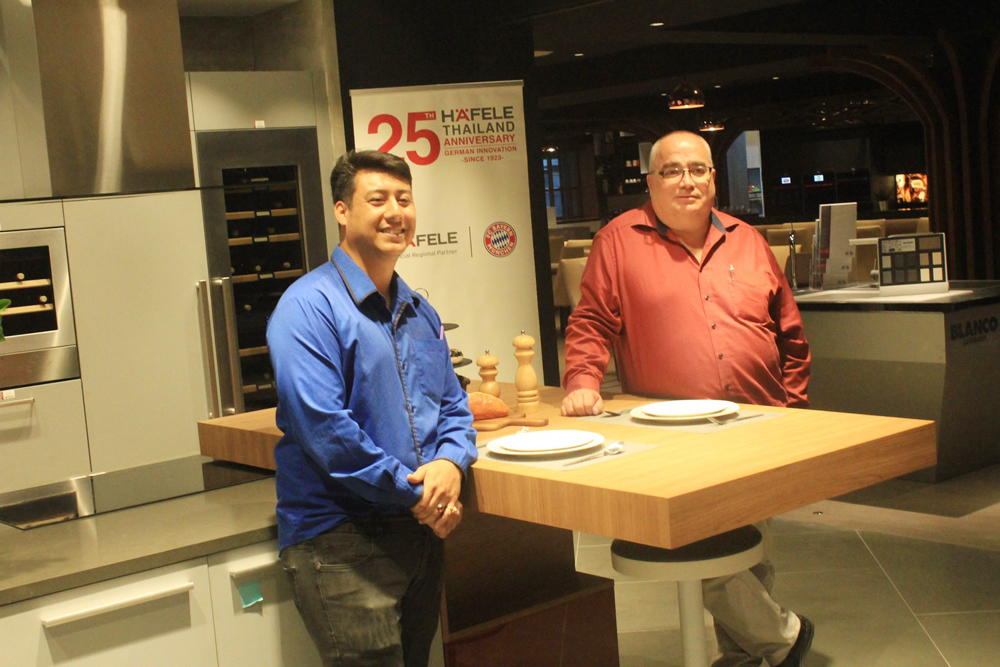 Häfele was established in 1923 in Nagold in Germany's Black Forest and over time turned from a small local hardware specialist into a global company. The founding families Häfele and Thierer (3rd generation) are still the owners of Häfele. Innovation has long been a hallmark for Häfele, as Alfred Häfele created the first fittings catalogue, bringing all the fittings from different suppliers together, so clients wouldn't have to come to the shop, but could message in their needs.
Häfele (Thailand) Co. Ltd. is one of the subsidiaries of the Häfele Holding GmbH, it was formed in 1994 to support the market growth of furniture fittings and architectural hardware along with top-class alliances in the business field of construction, furniture and property trading as well with trading partners and dealers in Thailand.
Häfele provides hardware, furniture fittings, home appliances, kitchen and sanitary fittings manufactured to the top German standard for all its customers. The head office is located in Bangkok's Sukhumvit Soi 64, and the company's spacious warehouse (32 rai) is located at Bangna Trad Road, km 22.
The company's customers are furniture industry, furniture trade, interior fitters, hardware dealers, property investors, architects, developers and authorities from 40 different countries.
Häfele (Thailand) has become renowned an outstanding partner in the fields of construction, furniture and real estate and provides their customers products of following main product fields:
      Architectural Hardware
      Furniture Fittings
      Kitchen Fittings and Home Appliances
      Sanitary Fittings and Ceramics
      Electronic Locking systems
History and growth in Thailand
In 1994, Häfele established its first sales office in Thailand on Rama III Road. In 2001, it relocated its head office and warehouse to Sukhumvit Soi 64. Then in 2004, the Häfele Design Studios in Pattaya and Phuket opened with a team of specialists who supported and advised expanding property developers in those areas. In 2005, the Häfele Design Studio opened in Hua Hin and in 2008, a new distribution centre opened in Surat Thani. In 2009, the "Häfele Logistic Centre" opened on Bangna Trad Road KM 22 to support the main distribution centre and to increase the service processes of warehousing and cargoes carriage.
The year 2010 saw the redesign and reopening of Häfele Design Studio in Phuket. While in 2011, the Häfele Design Studio opened in Bang Po on Sai Mai Road, Soi Pracha Naruemit, to encourage and advice customers, who were interested in buying products from one of Häfele's dealers. In 2012, the new Häfele Design Studios in the Mega Bangna shopping centre and at the main office on Sukhumvit Soi 64 opened as well as two new logistic centres; one in Khon Khaen to support customers in the Northeast (Isaan) and one in Chiang Mai for northern customers. Then in 2014, the Häfele Design Studio at Crystal Design Centre (CDC-Rattanathibet) opened to support the growth and competition in the area.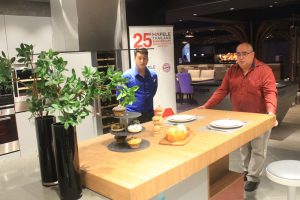 As Häfele's design studios have expanded throughout Thailand, the Pattaya and Bangkok showrooms highlighting furniture fittings have been a huge success and are a major part of Häfele's business. Euro Design and Häfele have collaborated and built multiple showroom furniture pieces and continue to do so to this very day.
When it comes to professionalism, quality, and readiness, no one can compete with Euro Design Furniture. When Mr, Hellstern, the Managing Director of Häfele in Thailand, says that there is no reason for Häfele to change contractors, it is further reassurance that Euro Design is the best in the business.
******************************************************************
Interview with Sean Macaulay Bennet, Marketing Manager for Euro Furniture Design and Mr. Volker Hellstern, the Managing Director of Häfele (Thailand) Co. Ltd.
Please explain the history of Häfele, how did you start out in Thailand? What were the difficulties that you encountered when working in a foreign country?
"In the beginning, there was just three people, a secretary (Khun Saowalak), a salesman (Khun Sirichai) and myself in a very small office. Now we have 1,500 employees including nine foreigners. At the beginning, no one knew Hafele, but many companies abandoned Thailand during the 1997 financial crisis. At Häfele, however, I worked on a delayed payment plan for our products with our head office. We stood strong and we didn't run away, endearing ourselves to our Thai clients. We have come a long way since delivering sliding doors by tuk tuk. And I consider myself very lucky to be based in Thailand, one of the most exciting and interesting companies in Southeast Asia."
You have now recently completed the first floor of the Häfele Design Studio in Bangkok. What is the ultimate goal for the future of Hafele and the Design Studio in Bangkok? 
"Our customers expect innovation, perfect service and the latest models and technology. Photos in leaflets are not good enough, you must display actual products to see how they work. So here in the design studio, we have an Innovation Centre on the ground floor where people can see, for example, how a micro-apartment works and on the second floor they can get a first-hand look at the hardware we use. The design studio also serves as meeting point for architects, young designers and clients and for all to discuss new concepts and designs."
How has furniture style evolved in Thailand?
"Thailand is actually a very modern country when it comes to design especially compared to some other Southeast Asian countries who focus on antique gold and Chinese-style furnishings. And when Thai designers do use historical motifs, they blend them well with modern décor."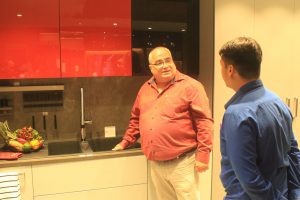 Häfele and Euro Design Furniture have been working together in collaboration for many years, what is the best way to describe your professional relationship production wise? 
"We have had a strong relationship with Euro Design stretching back two decades and the manager of our showroom in Charley Geser in Pattaya has played a big role in maintaining this relationship. Both companies are committed to delivering quality products and fittings and continually meeting and exceeding the expectations of customers."
Summing up Häfele, what makes you special?
"Outstanding products and a perfect team. We provide complete building solutions. Also, creativity and innovation, we have over twenty product managers doing nothing else but improving existing products and finding and creating new products – we need to make sure we are always one step ahead. We create a new product almost every week."
https://www.hafelethailand.com/