CLASSIC CAR FRIENDS PATTAYA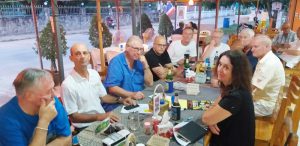 I may not be a "petrol head" but I like a good looking car as much as the next person and therefore was very happy to attend what is a regular first Thursday of the month event namely the meeting of the Classic Car Friends of Pattaya. Ed.
CLASSIC CAR FRIENDS PATTAYA is based on the idea of bringing people together who are interested in Classic Cars and in creating a network which will support and help Classic Car owners, collectors and enthusiasts in all their needs and activities. The Thai Classic Car situation is very special and without good "car friends" or a good network it can become very difficult or frustrating.
On Thursday, the 5th of March 2016 Jo Klemm (our Pattaya Personality this month) organized the first, monthly "Come Together" in the Restaurant ISS WAS in Jomtien with 7 classic car owners from Pattaya and Sattahip. Since, the club has continued to meet regularly on the first Thursday of the month and the website gets more than 3,000 visits per month with more than 100 "Classic Car Friends" all over Thailand.
In 2017 and 2019 CCFP organized a Charity Event in Pratumnak-Pattaya on the beach showground of ASIA HOTEL PATTAYA each time with 80 – 100 Classic Cars. Both events became, thanks to all the sponsors and help from our friends, a record breaking success. In March this year the club celebrated 3 Years CLASSIC CAR FRIENDS PATTAYA".
The activities: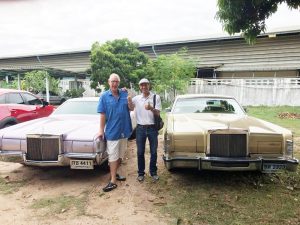 ⦁ Organisation of Charity Events
⦁ Monthly Meeting
⦁ Sunday "Fun Runs"
⦁ "Get together" with other car clubs
⦁ Technical support & advice regarding service & repair
⦁ Visiting Motor Shows
The friends:
The club welcomes anyboday who owns, collects or just loves Classic Cars.
The cars:
All cars of any brands or types older than 1989 (Vintage Cars, Pre/Post War Cars, Classic Cars; modern Classics; Limousines, GTs, Race Cars, Trucks, Prototypes, Special & Custom Cars).
The fees:
There are no fees. We are not a club in the common sense. We are an individual, independent community of "same minded people" without any standard club rules and obligations. Everybody who joins has only to pay for his own individual event participation costs. CCFP is "non profit oriented" and all activities are honorary. Donations or some sponsoring to keep our website working are welcome.
Contact:
For more information about meetings please visit our website
www.classic-car-friends-pattaya.com or FACEBOOK/ classic-car-friends-pattaya
or communicate directly with Jo Klemm the President of the Club 092- 753 9309