Pattaya Personality - Jo Klemm
                                                                                                                                                 By Gloria Jones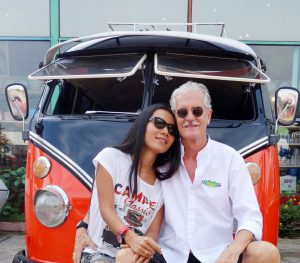 When you meet Joachim Klemm, Jo to his friends, it is quickly apparent that he is a car fanatic and not just any cars – "Classic Cars"! From the early photo with his first Classic Car an MGA 1500 he has gone on to own a selection of really beautiful vehicles such as the stunning Cobra V8 that he had whilst living in Spain in 2012.He moved from Spain to Thailand three years later, after having visited the country as a holiday maker. Once he had decided to become a permanent resident of Pattaya, he then made sure to bring his passion for cars to his new homeland. 
Describing himself as "a person who cannot sit still and must be doing something all the time" Jo has been lucky enough to indulge his "hobby" since living here. He has formed a group with like minded friends called "Classic Car Friends Pattaya" and they meet every first Thursday of the month at the Iss Was German Restaurant in Jomtien.
Many of our readers will recognize Jo from the Classic Car Shows that he has organised with the Classic Car Friends of Pattaya , to raise money for charity. The first was in 2017 and earlier this year when The Trader team were delighted to  attend the Car Show at the Asia Pattaya Hotel where there were nearly a 100 classic vehicles on display and around 2000 visitors. The event raised an impressive amount for charity resulting in a donation of 375,000 THB for the Children of Human Help Network who honored  Car Friends with a place on the charity's VIP wall of benefactors.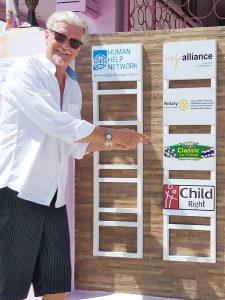 We will be delighted to be media partners for Jo and his Classic Car Friends on December 7th at The Diana Garden Resort when we hope Paul Jackson will again invite Jo to join his band on stage. A fact most people may not know about Jo is that he plays both Guitar and drums and  when you see him enjoying the entertainment at his charity events it is clear that combining his love of music with his love of cars and raising money for good causes, make him very happy.
If he is not busy with his hobby you can find him in his Real Estate Office "Go Property Thailand" in Thepprasit Road – pop in and say "Hello Jo"!