Top 5 Thai Street Food Dishes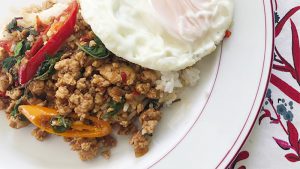 Khao Krapow Gai Kai Dao
If I've been abroad for any length of time the dish I'll want to order as soon as I return to Thailand is Khao Krapow . This is usually rice with chicken in basil leaves often accompanied by a fried egg on top. Although I prefer the pork "Moo" version rather than "Gai" chicken and I skip the "Kai Dao" – fried egg. Its an extremely tasty dish which is prepared in a flash with hot wok stir-fried mince flavoured with garlic,chilli and basil. You can find this dish pretty much everywhere but my preferred places to eat it are usually those that give a generous portion of fluffy white rice.

Pad Thai Goong Sod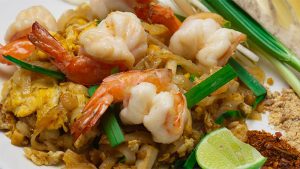 If you have a friend or relative newly arrived in Thailand who's not ready for anything too spicy then this noodle dish is one to recommend as it has been a favourite amongst foreign visitors for many years. Usually made from "sen jan" flat, chewy noodles combined with a fried mixture. It can come with a variety of different meats but my favourite version is prawn (goong sod), combined with peanuts, tofu and beansprouts. I think the prawn is best to accompany the sweet and sour flavours of tamarind juice, lime, fish sauce. Also it seems to taste even better when eating by the sea – a perfect "beach side treat"!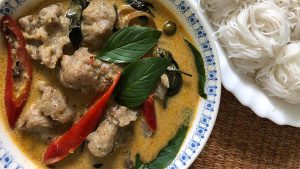 Kanom Jeen Gaeng Kiew Wan
Kanom Jeen noodles are believed to have originated from the Mon people, an ethnic group native to neighbouring Myanmar's Mon State. The soft strands and distinctive taste are attributed to a three-day fermentation process and are popular as an accompaniament to green curry or Gaeng Kiew Wan.
There are a myriad of herbs and spices that go into the green curry paste cumin, coriander, galangal, and lemongrass to name but a few.

Kanom Jeen Gaeng Kiew Wan. Photo credit: Su Snitbhan.
Guay Tiew Pad See Eiw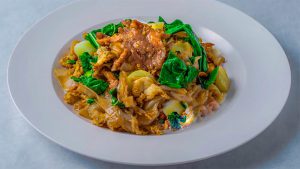 Readily available on the streets and at most restaurants – Guay Tiew Pad See Eiw is a quick and satisfying meal. Most usually served with sen yai large flat noodles and stir-fried over a wok-fire with dark soy sauce, white soy sauce, kale and eggs.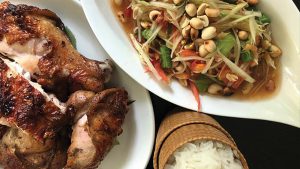 Khao Niew Gai Yang Somtum
Som Tum famous Thai papaya salad works really well accompanied with gai yang(grilled chicken). You can enjoy this with sticky rice or my favourite way to enjoy this is again at the beach -often vendors at Koh Samet will prepare it for you while you enjoy the rays.