Is there a positive to having a "dry day" in Thailand? Well apart from the obvious health benefits, it can encourage you to try a different drink to accompany your meal and if you are dining at Masala Twist then you should try the lassis (dry day or not)! They have a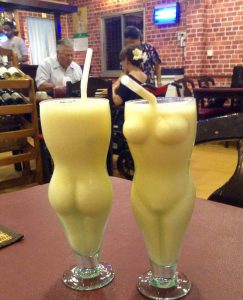 full selection of this traditional Indian blend of yogurt, water, spices offered sweet or salty or with fruit ( their mango lassi I can really recommend).
So what about the food ? I hear you ask. Well, they have only been open in Jomtien's 2nd road (more or less opposite the Rompho market) for a couple of months but are already becoming a firm favourite in the area – with good reason. The owner Sonny has taught Indian cookery and has a wealth of experience with Indian restaurants all over Pattaya including the one still in Walking street. However,he has wisely decided that the food at Masala Twist will be more akin to that popular in Indian restaurants in the UK and as his restaurant is open until midnight this is obviously popular with the after drinks crowd.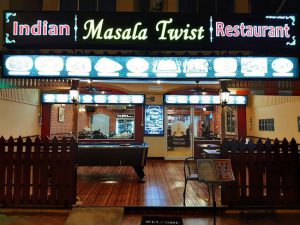 The Trader Team tried: onion bhajis – crisp, delicious and not at all greasy, a thick and hearty dahl soup and the house special "Cocktail prawns" Next a Tri colour Tikka Special representing the 3 colours of the Indian flag and curries: A Chicken Madras thick,spicy and very tasty, Lamb Vindaloo,a little salty for my personal taste although the lamb was tender and succulent and Prawn Tikka Masala far better than the usual "tomato soup" versions with a delightful blend of seasoning herbs and spices. As food is made to order at Masala Twist you can even tell them the degree of "heat" you are prepared to take for your spicy food. For example, if you've always loved the taste of a Vindaloo but usually find it a bit "full on" then you can ask them to make it level 6 of 10 – a great idea. Also if you have allergies or any pet hates let them know and they will make sure these are not included in your meal.
Prices are far more reasonable than the quality of the
food would suggest with appetisers around 100 baht and curries around 200 to 300 baht. So unsurprisingly they are already popular for take-aways. However, if you do decide to make an evening of it in the alfresco part of the restaurant there is a pool table where you can enjoy pre, post drinks or even have a quick game in between courses!
With charming staff a relaxed, welcoming atmosphere whether you're booking a reservation or ordering take-out you will want to keep Masala Twist 083 997 0601 on speed dial!