Elle - a rising star on the circuit "you can't teach talent"
                                                                              By Gloria Jones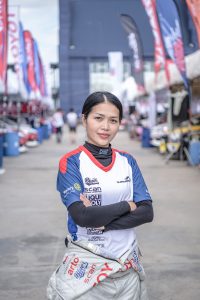 Elle has two children, runs a popular sports bar in Khon Kaen, is a board member of the Rotary club there, and now at the age of 29 years old, is realising her childhood dream of becoming a racing driver. She loves watching films about motor racing and also loves driving having started at the tender age of just 14 years old. All too soon she understood that this dream might well be beyond her reach but as she told me at the start of this interview: "Meeting Thomas has made my dream come true".
Elle and Thomas met while he was racing in Buriram, being introduced by a mutual friend. The timing couldn't have been more perfect,Thomas has not had a car to race this year and so has been able to devote his time to mentoring Elle during this "year out". I asked Thomas how he teaches her and he explained "The car only has 1 seat so I cannot sit inside with Elle. Instead we have a video camera which records the data that we can review after."
In March this year Elle completed her test at Bira followed by her first race a month later, in Phuket . Then it was her chance to race at Buriram where she came in 10th. In fact taking account of her fastest lap times Thomas proudly tells me that she would have ended up in 4th position if technical problems with the car hadn't dropped her down a few places.
All in all not bad for her "3rd time out" racing in this year's Toyota Gazoo Vios Lady Cup where 18 ladies of various ages from all over Thailand compete.
As the name suggests all competitors drive the same make of car, the Toyota Vios, so that it is skill and not finance .that determines the winner. Only certain amendments to the car can be made. Obviously safety features such as a roll cage are added and only 1 seat is left inside. The spark plugs can be changed as well as the exhaust muffler and air filter. The only additional amendment then allowed is to the car's suspension that can be tinkered with to suit the track, temperature and general weather conditions. This is where Thomas's expertise comes in extremely handy as he knows each of the tracks extremely well. In fact before a race they will walk the track together as of course it is all new to Elle but Thomas has had 39 years experience of racing 29 in cars and prior to that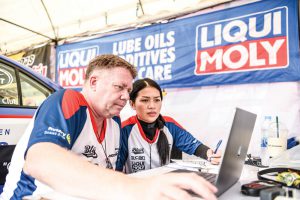 10 racing Go Karts.
I asked who Elle's stiffest competition will be when competing for the cup and was told that are 5 or 6 lady drivers who Thomas really rates, saying that they are matching the same lap times as the men. The star of the show so far this year is a competitor also known for racing on the motorbike circuit: Mekkareidkeeta Kalantara. She is consistently gaining first place and is the one to beat.
During the interview I complimented Elle on the shirt she was wearing and was told that there was in fact a story behind it. Thomas had been given the shirt by Fernando Alonso with whom he shares the same physical trainer and mental coach Guiseppe Sebastiani. When Guiseppe comes to Thailand, Thomas sets up special training appointments with drivers who can be helped with extra mental awareness and physical strength training, essential for the stamina needed whilst travelling at average speeds of 150-165 kms per hour. I'm sure during the next visit Thomas will arrange for Elle to benefit from some time with Guiseppe. Also in the future, Thomas and Elle are planning to jointly take part in a 6 hour and 10 hour endurance races where there will still only be one seat in the car driver's will swop after laps.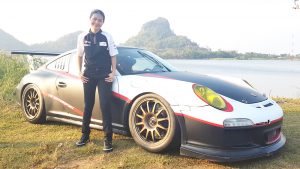 Clearly Thomas sees potential for Elle as a future star of the Thai Circuit:and tells me:
"She has amazing feeling for and handling of the car also zero fear. In fact she has already experienced a crash where she was not scared at all just cross with herself."
He went on to say that he is usually a very nervous passenger
"But when Elle drove me the very first time in just an ordinary car I was completely at ease. She was competent and confident and finished the journey with a superb example of parallel parking."
So what are Elle's dreams now that she has achieved her childhood ambition of becoming a racing driver? – Well she tells me that her long term goal is to drive in a supercar series and I'm sure with Thomas to guide and help her there is every chance she will succeed. He can give her advice and training but the essential ingredient she already has, as he says:
"You can't teach talent".
If you want to catch Elle racing, her next time out will be later this month at Bangsaen from the 28th to the 1st of September. To find out more about Elle or if you are interested in sponsoring her racing car go to the facebook page Elle Chutima's Fan Club Page or write to me at [email protected].