WHAT NEXT FOR THE BRITISH EXPAT?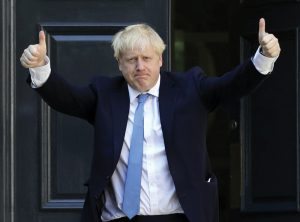 Boris Johnson has been elected the new Conservative Party leader and therefore the new prime minister of the UK. His first task was to choose a new cabinet and he has done so with a vengeance, taking an axe to everyone in the previous line up who opposed his view on Brexit and filling virtually every position with people sympathetic to the cause of getting the UK out of the European Union on October the 31st, come what may. What the implications are of this for the UK economy is anybody's guess but my feeling is that the awful uncertainty and lack of leadership since the referendum in 2016 has been damaging enough and as they say, this is not the end, but it may be the beginning of the end.
As far as the implications for foreign nationals living in Thailand are concerned, I fear the short to medium term will be difficult. There may be a perfect storm coming, with Brexit, the extremely damaging China – US trade war and various others factors leading to the conclusion that the Thai baht will continue to make a strong showing for the foreseeable future.
I think anyone who lives in Pattaya as I do has come to the conclusion that this is one of the quietest periods ever seen in the city and the poor showing here and the reports of equally quiet times in places like Phuket and Chiang Mai has led to some influential people in the Thai tourism industry actually breaking ranks and telling it like it really is in the various media outlets, which I believe will help in the longer term. Alongside this is the Thai economy's reliance on exports and the continuing strength of the baht has already done serious damage there, with the second quarter until June showing a severe downtown. Perhaps these factors plus the swearing in of the Thai government cabinet last month will encourage a feeling of stability in The Kingdom and may encourage a rethink and gradual easing of the currency.
One last point I'd like to make concerning Pattaya. With all the doom and gloom around at the moment, you can't walk down the street without having to dodge an Aussie or Brit who's thrown themselves out the window after seeing the exchange rate, is that the amount of new building going on is incredible. Jomtien, Cosy Beach and Pratumnak are absolutely alive with new projects, and not small time stuff either. A lot of this investment comes from long established companies in Bangkok and I have spoken to people who are investing here and are convinced that with new infrastructure projects being planned, the city will turn the corner. Let's hope that's the case, for everyone's sake!