Escape To Luxury At Centara Grand Phratamnak
Pictured: cool rooftop pool area with lovely breeze & ambient tunes keep everything well chilled.
The hotel's upscale design reflects understated luxury, and a sophisticated ambiance prevails, with elegant furnishings from premier Italian designer Casa Fendi. The hotel's facilities are an ideal match for refined couples and families, plus business executives will feel at home here.
All rooms and suites are designed with a cosmopolitan décor, using the finest furnishings and fabrics and include contemporary amenities such as a DVD player, Smart TVs and of course complimentary wireless internet access.
The Family Suites feature a separate children's area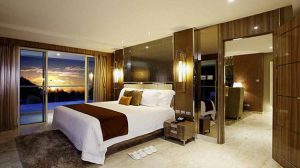 with bunk beds ensuring children's comfort. There is also an option of the Ocean Vista rooms and suites which boast great sea views. From experience the Ocean Vista Suites are a great choice, not only for the views to the nearby water and gentle waves, but also because they have the biggest TVs you may ever want to watch.
All the hotel's 164 rooms, suites and family suites have a balcony or terrace. They offer a king-sized or two double beds with living space ranging from 36 to 88 square metres. The suites all encourage you to relax in comfort as they include a separate living room.
Located in Phratamnak which is developing into one of the most exclusive residential areas of Pattaya, this classy property gives easy access to the tranquil ambiance and fine sands of Phratamnak Beach.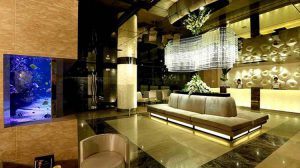 An underwater world theme pervades the whole hotel, including the lobby with its two huge aquariums, and the ocean view swimming pool and top level Jacuzzi that provides a calm oasis where you can enjoy a leisurely dip, swim, or simply relax on the sundeck.
At the top-notch restaurant up there on the rooftop the Thai style king prawn and mango salad is a delight, perfect for a lovely light lunch. The authentic Italian style pizza deserves a mention as it's so hard to find in Thailand, and the mega thick beef burger hits the spot is you're hungry for a western meal.
All the restaurants and bars provide a wide choice of cuisines – ranging from international, Thai and Italian flavors – to guarantee that guests are spoilt for choice.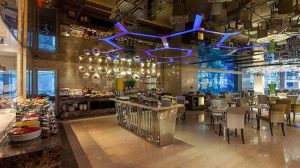 There's also a great choice of sommelier-selected wines available throughout the resort. You can easily take a look at these as they're showcased in a fabulous display on the top floor at Ruffino Restaurant & Lounge. There are beautiful fish tank displays there too.
Oceana, the all-day dining restaurant is well designed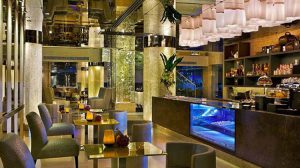 also with the underwater theme in mind and includes two gigantic aquariums and offers a menu that combines the deep and complex flavours of Royal Thai cuisine with dishes of international influence, with the accent on in-season ingredients.
On the ground floor Espresso provides a great setting for sipping a freshly brewed coffee, and for enjoying delectable pastries at any time of the day. In-room dining is also available of course.
After your meal the shore of Phratamnak Beach is a perfect place to wander for a while, and those wishing to venture out of the hotel area will appreciate the complimentary shuttle service that connects guests to the attractions of Central Pattaya The hotel also offers business travelers and small to medium-sized groups a host of related services, with the option to host events at Phratamnak Lounge overlooking the ocean, along with two fully-equipped meeting rooms.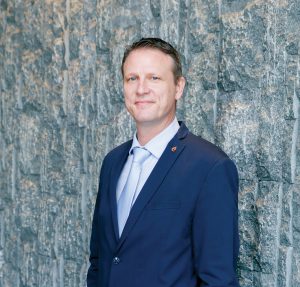 Jonas Sjostedt is the man in charge at Centara Grand Phratamnak, and it's good to know he keeps his experienced hands on the steering wheel. He has been working for Centara Hotels for nearly 10 years, and in the hospitality industry all around Thailand.
He tells me "Pattaya is a 'City with a Beach' destination. The area in and around it is very large, and is still growing. If you go outside the City you can find many top quality Golf Courses, Family/Adventure Parks, a great Water Park, temples, a floating market, even a winery, and much more. It's a destination for everyone!"
So whether you're holidaying with family, as a couple, or visiting Pattaya for a special meeting experience, the Centara Grand Phratamnak Pattaya makes for an exciting and richly rewarding base, all just a few steps away from the beach a real escape to luxury!