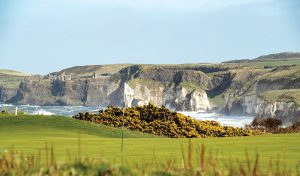 The final major championship event of this year's golfing calendar, the Open, takes place at Royal Portrush in Northern Ireland between the 18th and 21st of the month. It marks only the second time the event has been played at this venue, the last time being 68 years ago in 1951 when the Englishman Max Faulkner won with a final score of three under par 285.

Incidentally, Faulkner's cash prize for winning that year was 300 pounds, with the second picking up 200 pounds, the third 100 and the fourth 62 pounds and 10 shillings ! The prize fund this year is just over 10 million dollars, so plenty to play for !
The course itself is the most beautiful layout, winding through the scenic links land and constantly changing both elevation and direction. Of course the layout has been lengthened to try and make it a real test for today's power hitters and to give you some idea of the extra length, the course is some 535 yards longer than in 1951 and is playing as a par 71 instead of 72. To find the extra distance on a course this old and set where it is must have been quite a headache for the designers and with holes named Giants Grave, Himalayas, Calamity Corner and Purgatory this promises to be a real test for the world's best, especially if the wind blows.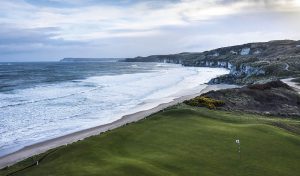 Nearly all of the world's top players will be lining up, with all the usual suspects amongst the favourites to win the event. Rory Mcilroy, born locally and brought up to learn the game on courses like this, will be keen to win back in his home country. Other top contenders are Dustin Johnson, the great Tiger Woods and Brooks Koepka, whose record in the majors over the last two years is incredible. This year alone he has finished second in the Masters, won the USPGA and then finished second in the US Open.
Amongst the home grown players trying to win their major championship besides Mcilroy will be Justin Rose, former world number one and a leading contender, Tommy Fleetwood, who loves links golf having learnt the game at Southport, Matt Wallace, a multiple winner and playing excellent golf at the moment and Graeme McDowell, another native of Northern Ireland who was recently quoted as saying he has played this course between 300-500 times in his life, so no shortage of experience ! Plenty of other competitors in this quality field will like their chances of winning as a links test like this asks questions of the players that very few other courses do. If the rain stays away and the wind blows, drying out the fairways and greens, players will have to manufacture shots that they don't play at nearly any other time of the season and it will be a fascinating four days viewing for golf fans everywhere.