Have you heard? There's a new Captain in Pattaya.
By Gloria Jones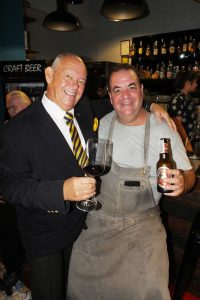 The Captain also known as "The Brooklyn Bad Boy" and "Harlan on a Harley" is constantly recreating himself as well as his food. Harlan Goldstein is a global globe trotter who has been in the business of cooking  for the rich and famous from the tender age of 14 and is now a culinary vetran of 58 years old
Having survived his honeymoon period here in Pattaya (he arrived 1 ½ years ago) he has rather fallen for the place and decided to make it his home along with his lovely Chinese wife Helen and daughter Chacha.
This all came about because the owner of The Clubhouse in Cozy Beach  made him an offer too good to refuse with a free deal on the rent for 9 years! So after screaming at him "I love you long time" Harlan immediately set to work designing his restaurant. Some might call it OTT but Harlan says:
"Nah I'm just tired of pompous dining where the menu never changes I want a restaurant where I can share my passion and love for food"
Certainly  If you like your dining experience subdued,mood lit with a touch of dinner jazz this won't be the place for you
His competitors might despise him but he takes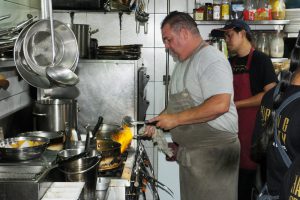 it all with a pinch of salt and when I caught up with him he was having mischievous fun with members of The Breakfast Club on Facebook. However, despite all the banter he's obviously a big hearted guy, passionate about his food and generous to a fault. Josephine, one of the stars of his TV Show, confirms that when the restaurant has a good night he will "share the love" handing out 1,000 baht notes to everyone who works for him. Sure he is loud and a "larger than life personality" but unlike the caricature of the rude,arrogant michelin starred chef he doesn't take it out on his staff.
"They all call me Papa" he proudly informs me "I'm a visitor here but I have a great deal of respect for Thailand I already speak 6 languages and am keen to be able to speak Thai to my staff but in any language I never talk like dirt to them. If I get angry I go outside and scream at the Condo! – But not every day !"

I'm not going to tell you what to eat when you go to Comfort  just go and try ordering something you wouldn't normally choose and enjoy putting yourself in Harlan's capable gastronomic hands. He just might change your mind on your choice of entree to make sure you have a balanced meal or suggest something he has recently discovered that excites him and he wants to share with you such as a new favourite gin
This place is not going to be for everyone but everyone should give it a try and as the man himself says "Love me or leave me" – for sure you'll never forget him.