Have you been to NongNooch Gardens Lately?
  By Gloria Jones
Well if like me it's been a few years since you last went to NongNooch Gardens, I urge you to revisit it, especially now the weather has got a bit cooler.
Ranked number 4 in Earth@World's listing of the Top Most Beautiful Gardens in the World and a Gold Medal Winner at the Royal Horticultural Society's Chelsea Flower Show in the UK, it's a given that you will see some amazing plants and beautifully landscaped grounds. What you may be surprised to find – and any children with you completely delighted by – is Dinosaur Valley!
Dinosaur Valley was in its infancy the last time I was here (just coming out of the egg so to speak). Now there are many more larger scale models and even dinosaur sounds to delight your youngsters. Also, there are now more undercover areas, more overhead walkways and some very international looking gift shops,coffee shops and the like.
From the moment you arrive at the Convention and Exhibition Centre you will see that the frontage has been organised to handle any size of party. From taxis dropping off visitors to large coaches, there are designated and individually numbered bays. Likewise inside at the ticket desks, the centre has more of the look of an airport.
Obviously the increase of coach visitors has had much to do with this increase of organisation. However don't worry even on a busy day there is plenty of room and staff are really expert in guiding you around. Unfortunately they need to be as much of the ticketing you will receive is in Thai only. So do not be afraid of asking for advice as to where to go and which queues to join. as from the entrance right through to finding seats at the excellent and very colourful, traditional show , they will be on hand to guide you.
A good tip and something I would recommend as being a real difference to my last visit, is choosing the right place to eat. My very first visit I went to the open air eating space where you have to queue for vouchers before trying to make your selection and find seats in a rather hot, crowded and extremely noisy area. This visit we let Sunny Online handle our booking and took their recommendation of lunch in the Indian restaurant, which otherwise I am sure I would never have known about.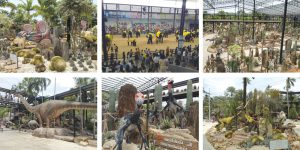 The restaurant starts serving at 12 p.m. and we were there straight away to take our pictures before the other visitors arrived. We were very pleasantly surprised by the breadth of choice, wonderful vegetarian and meat curries, salads and tasty accompanying dishes. Spacious and beautifully air conditioned it was a real treat to sit and calmly enjoy or meal before launching ourselves back out into the park.

Why not revisit a Pattaya Attraction with Sunny Online? You will be pleased at what you can rediscover with their help.