Celebrating Euro Design Furniture's 20th Anniversary.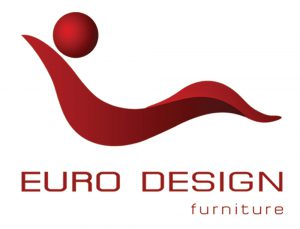 History of Euro Design Furniture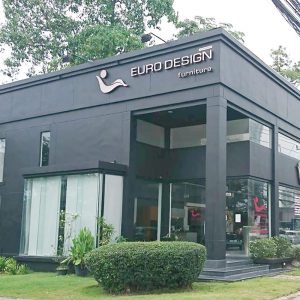 In 1999, Euro Design Furniture was formed by Heinz Pichler and Luc Parietti. Heinz had owned and operated a small furniture manufacturing shop for many years, gaining a reputation for innovative designs and good quality furniture. When Luc came onto the scene, Mr. Pariette's energy and vision was injected into the small time company and Euro Design Furniture Co. Ltd. was born.
What started as a small furniture manufacturing business grew into a vertically integrated interior design company. With a retail showroom based on Theprasit Road for several years now. Euro Design widened its scope of operations in interior design which has opened up operation channels to do full-fitted custom home interior projects, hotel renovations, restaurant renovations, office renovations, and even yacht renovations.
Over the next few years Euro Design expanded its range of products and unique furniture collections. From the Asian modern feel of the Osaka collection to the city slick London style designs. Euro Design covers the entire range of tastes and styles, truly offering something for anyone's interior preference.
Driven by a huge increase in demand, Euro Design Furniture expanded once again in 2006 opening their brand new 2,500m2 Production Facility in North Pattaya. This significant increase in capacity allowed Euro Design Furniture to service a much wider range of clientele but also allowed for much larger renovation projects to gain access to our services.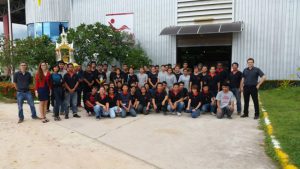 French-Canadian Jacques LeFebvre joined the team as director of Production and Operations to help organize the new expansion and maximize their new capacity.
At that same moment Luc decided to re-launch the Theprasit Showroom and unveiled a newly designed luxury 900m2 Showcase center which has been a complete success since day one of opening.
Managing Director, Luc Pariette works feverishly upstairs helping clients get the right design and consult on utilization of space in the floor plan. Marketing & Designer staff help service the showroom to ensure a dynamic living experience and innovative portrayal of Euro Design's creative prowess and ingenuity.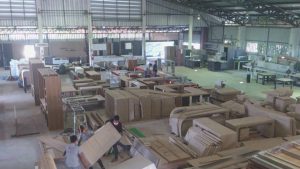 Today, Euro Design concentrates on expanding both its range of production as well as its well established base of satisfied customers everyday to ensure the best possible solutions for all customers needs. Always remember one thing, Euro Design's mission objective has never changed its position, when a customer walks through those glass doors they will get exactly what they want.
Special Guest Speaker Starring: Mr. Luc Parietti, M.D. Euro Design Furniture
Here now with an exclusive interview, Mr. Luc Parietti will answer a few questions to give you an insight to his vast knowledge and understanding of interior design trends, fashion statements, and evolution of color trends over the past 20 years.
Today we are celebrating Euro Design Furniture's 20th Anniversary and the readers would like to know a couple of insight tips and interior design trends which have evolved over the year in the Thailand market. Conducting the interview is our host Mr. Sean Macaulay Bennet with over 10 years experience in the marketing and business sectors of Thailand and being a passionate lover of interior design for most of his life in the US as well as Thailand.
Question 1. Bennet – Mr. Luc, you are now celebrating your 20th Anniversary for Euro Design Furniture. How has the evolution of interior design trends changed over the past 20 years since you started the company? What was trendy back then opposed to now?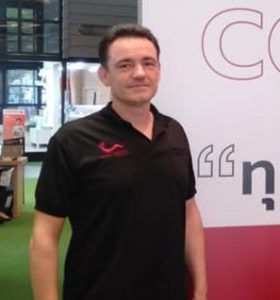 Parietti – The changes in interior design and furniture in Thailand over the past 20 year has tremendously changed, this is mainly due to the interest that Thai people have now for interior design that was very seldom at that time.
This new interest for interior design means that a lot more students are studying to be an interior architect and we can find today very talented interior designers.
The second big improvement is the supply of materials, 20 years ago it's was extremely difficult to find proper tiles or kitchen appliances, many products weren't available and the choices were very limited.
Back then, the trend was very old school traditional wood furniture very heavy design,
today the trend is minimalism, limited to the necessary but still functional is a lot more important in today's interior design then it used to be. This is partially due to the fact that the apartments have significantly reduced in size according to the increase of the land and property value all over Thailand.
Question 2. Bennet – Being a designer and in the industry of architecture and design for over 25 years, how does Thailand architecture differ from European architecture? Are their any special historical monuments which seem aesthetically different in term of the architecture world?
Parietti – The difference in design and architecture is due to the different climate that we have between Europe and Thailand, the needs are therefore different, but today you can see that the interior design is getting more similar due to the world trade of today you can now have the same product in both places and this gives the interior designer the possibilities to add a European or an Asian flavor to the interior is possible wherever you are located on the planet, Thailand included.
The best examples of historical buildings with complete different architecture would be the Royal palace in Bangkok compare to a European castle their you can see how at that time workerd were limited to local supplies of material typically more stone in Europe and more wood in Thailand and also how they had to adapt the architecture to the local weather conditions.
Question 3. Bennet – Euro Design Furniture now has their own production facility in North Pattaya. What does that mean for me if I was a customer? What could I do with my private residence or commercial business in terms of renovation if I decided to go with Euro Design Company?
Parietti – We have two locations to serve our customers; Our showroom on Theprasit Road is where we can take care of all your design needs, we have two interior architects who can design your dream house or your perfect work environment for your company. This is also where you can see our quality of craftsmanship, we have large displays of all types of furniture.
Our factory in Nongplalai just near the outskirts of Pattaya is where we produce all the furniture according to the designs we have made or to the designs that customers provide to us we will do all necessary production drawings that will be precisely made after we have re-checked every dimensions in your house or work place.
For the renovation work like electricity, plumbing, air conditioner, floor covering, masonry tiling, ceiling, painting, we can manage this part for you as a one stop service package. We have been working with the same contractors for two decades now, therefore we can replicate the custom interior of your dreams from design drawing to reality with ingenuity and ease.
Euro design furniture http://www.euro-design-furniture.com/en/   Facebook https://web.facebook.com/eurodesignfactory/